Another way to visit Camp Nou: take a guided tour with an expert!
Discover the legendary FC Barcelona stadium! Take a guided tour of the Camp Nou with a Barça expert! Follow Olivier, your guide!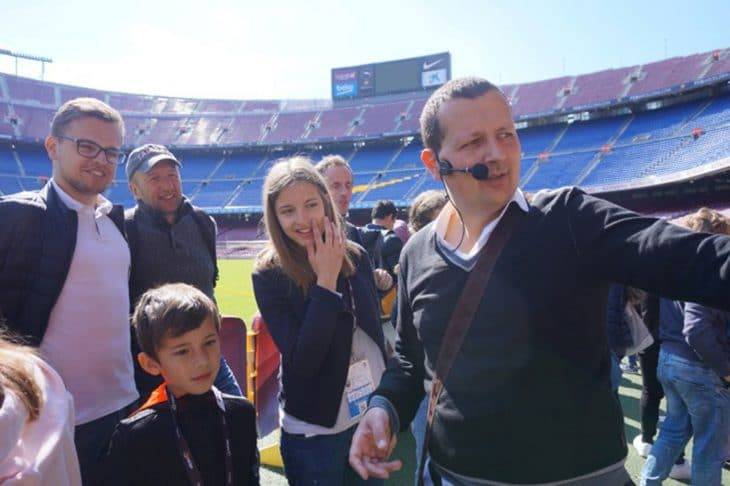 When?
Mondays 4pm
Wednesdays 9.30am
Saturdays 9.30am
How much?
voir tarif dans l'article
Why?
For everything you want to know about Camp Nou
Camp Nou is famous the world over, so it's not surprising that its museum is the most popular in Catalonia. But Camp Nou is more than just a stadium, as Olivier – a regular there- will show you on his exclusive tour!
Who is Olivier?
Living in Barcelona for the past 11 years, Olivier is a huge Barça fan, following them since 1992. He has even dedicated a blog to them!
A loyal socio (follower in Spanish) of FC Barcelona, he is also a sports journalist. Olivier therefore heads every week to Camp Nou to attend matches or conferences. In total he has seen more than 130 matches, so it's safe to say the stadium is like his second home!
The route of the tour of Camp Nou in English
The Camp Nou tour starts outside where Olivier will give you a brief presentation of the different parts of Camp Nou. Once inside you can take a tour through the FC Barcelona museum where your guide will give you heaps of information on this mythical club.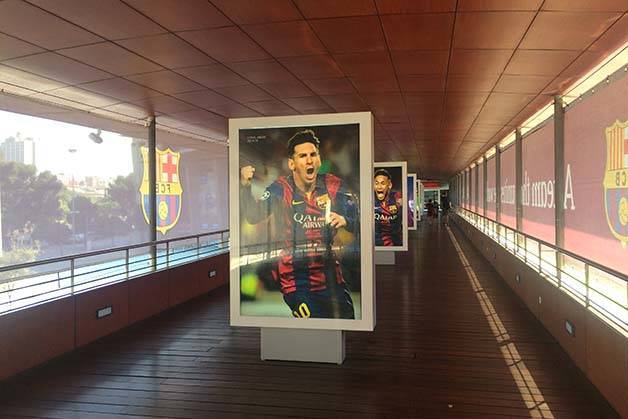 You can (re)live Barça's best moments and see, for example, the innumerable homages to Lionel Messi. Don't hesitate to ask Olivier to select the videos of the best goals to show you on the screen!
You can then explore the stadium with him: you will get a tour of the terraces, the press room, and the dressing rooms, all much improved by Olivier's exclusive anecdotes.
Good to know

Once the tour is over you can stay as long as you like in the museum.
Olivier can do the tour in French, English and Spanish.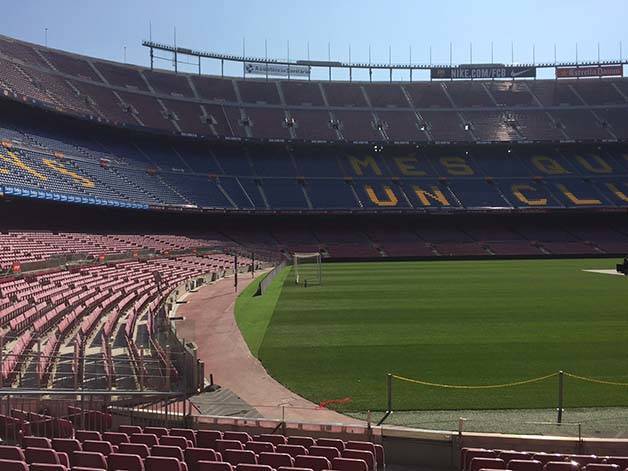 Why take Olivier's tour of Camp Nou?
The tour is very well put together: Olivier knows Camp Nou like the back of his hand, so you will miss nothing under his guidance!
You can benefit from the knowledge of a real expert: Olivier is unbeatable and he takes the time to answer all your questions. He's also a very nice guy and knows how to adapt the tour to anyone from dedicated fans to newcomers!
The Camp Nou tour is exclusive: Olivier will only do it for your little group (no more than 8-10 people). This private format allows to really benefit from Olivier's tour in a relaxed atmosphere.
Olivier also offers tours for business. A great team building experience for fans.
The times are strategically chosen for when the place is at its least busy, which makes it easier to stroll around and take photos in peace.
If you have a football fan among your nearest and dearest then Olivier's guided tour makes an excellent gift.
Useful information
Duration of the tour
Prices of Olivier's exclusive tour:

Regular price: 23€ for over 14s.
Reduced fee: 18€: children from 6 to 13 and over 70s.
Free for children under 6.
Prices for groups of 10 or more people: 
18 €: for over 14s
Reduced fee: 15€ children from 6 to 13 and over 70s.
Careful! The museum entry price is not included in the tour price. You will have to buy museum tickets separately and in advance.
Camp Nou museum entry prices:
Full price: 23 euros
Reduced price: 18 euros (students, children from 6 to 13 and over 70s)
Free for children under 6.
To avoid queuing and save time, please buy your museum entry ticket in advance online.
Queue-cutting tickets:
There are different platforms that allow you to buy tickets online, but not all of them are queue-cutting tickets as you have to pick them up at the ticket window.
We suggest to buy a real queue-cutting ticket. You will not lose time waiting, we suggest you to buy your ticket online on the following link.
With the ticket you receive by email, you can enter directly and show your ticket on your smartphone, or a printout. Couldn't be easier!
Times

Mondays at 4pm and Wednesdays and Saturdays at 9.30am
Arrive on time, as the museum fills up quickly!
So are you ready to become a Barça expert?
Like this article?
Click here!
Comments