"Jamón experience": Discovering Ibérico ham on the Ramblas
"Jamón experience" takes you on a tour of the best ham in the world and ends with a tasting! Interested? Read on to whet your appetite.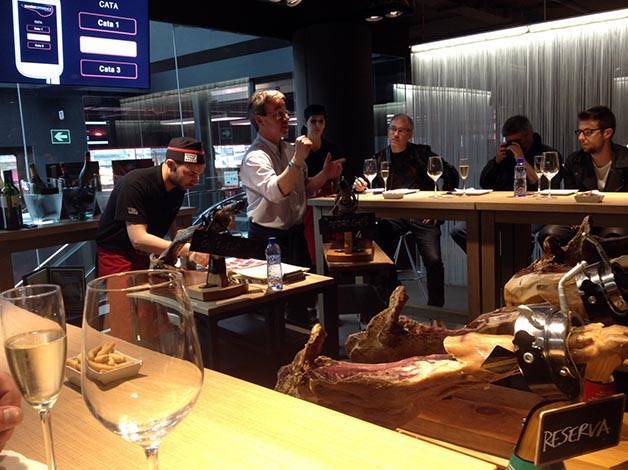 Where?
Gòtic
Les Ramblas 88
metro: Liceu (L3)
When?
every 30 minutes
from 11:30am to 8pm
How much?
Adults: 19 euros
Children aged 4-10: 15 euros
Over 65s: 15 euros
Why?
for a very unusual experience
Ibérico ham is, according to many experts, the best ham in the world. This high quality product is comparable to caviar or foie gras but is still not too well known outside Spain.
Since I discovered the incomparable flavour of Belotta Ibérico ham, all other hams on the planet have lost their appeal.
Thanks to a nice initiative by Barcelonasfera, I was invited to discover Jamón experience. I don't need to tell you my taste buds were very excited at the prospect.
The experience was to last an hour, and involve discovering heaps of information on the process of creating Ibérico ham. I was then to participate in a tasting of 6 hams. So I wasn't exactly reluctant.
On a beautiful morning I headed (almost running) towards the centre dedicated to Ibérico ham located opposite the Boquería market, on the famous Ramblas. Couldn't be more central!
First part: the Ibérico ham learning space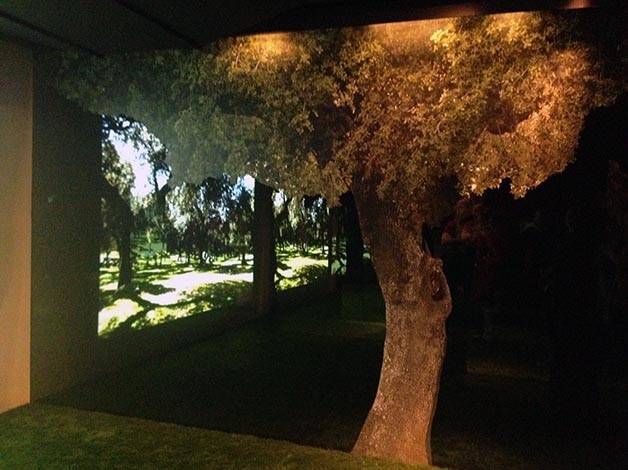 The first part of "jamón experience" takes place underground. An audiovisual tour of around 20 minutes through 8 different rooms presents the environment in which the Ibérico pigs are raised and the different stages involved in creating the ham.
Do not panic if you don't speak Spanish or Catalan, as the audio-guide allows you to take the tour in a number of languages, including English.
Jamón experience: tasting 6 different sorts of ham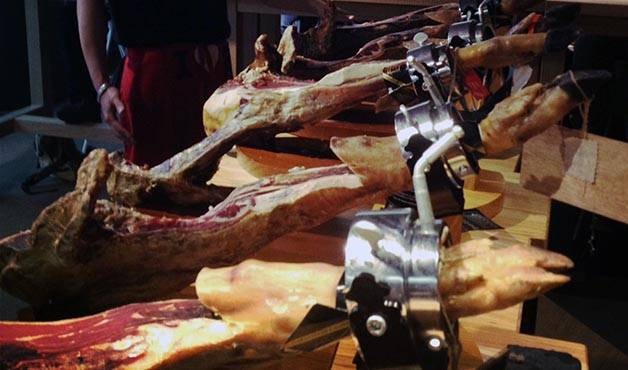 If you're like me then you're most interested in the tasting, let's be honest! 😉
You taste 6 different types of ham: reserve, Ibérico and 4 denominations of origin: Huelva, Extremadura, Guijuelo and Valle de los Pedroches. Personally I distinctly preferred the Valle de los Pedroches.
Bit by bit as the various slices of ham are cut by a professional and arrive on your plate, you will taste each one while following an audiovisual explanation projected on a screen. You can try the different types of ham accompanied by your choice of a glass of Cava, red wine, beer or mineral water
To give you an idea, here is a photo that a friendly blogger let me take, as she was clever enough to resist the temptation to eat each slice of ham as it arrived on her plate. I was not able to resist, and to be honest it didn't even cross my mind.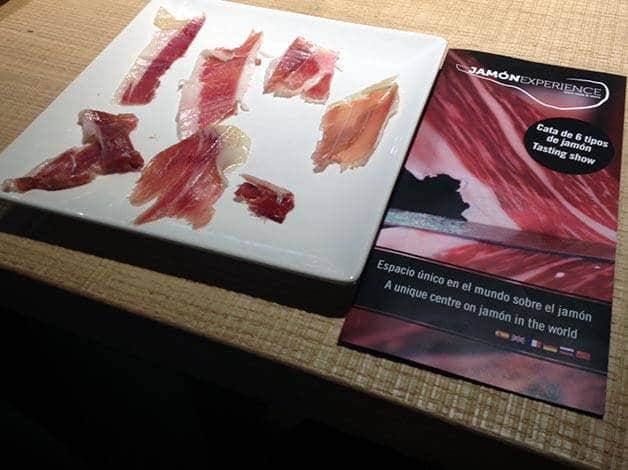 The price jamón experience
I must admit I hesitated before writing this article, simply due to the price of the experience: 19 euros for an hour seemed a little expensive. But, having thought about it, Ibérico ham is a very tasty and expensive food and this course allows you to learn a lot about how it's made and its qualities. So it's worth it if you really want to learn a lot about this excellent product and also enjoy a very pleasant experience.
And the good news is over 65s and children from 4 to 10 get a discount, and pay only 15 euros.
The Enrique Tomás boutique
After this gastronomic interlude, head to the huge sale area. Here are displayed lots of hams but also a huge choice of Iberian products, wines and Cava.
Super original: you can even buy a book with some edible pages
Everything is arranged for your convenience here, and they can organise delivery to your hotel, your cruise ship or your home in Spain or even abroad. But be careful to check the price before falling to this temptation.
The tapas bar with a view of the Ramblas
If you need even more, you can continue your quest for excellent Ibérico ham at the Mirador, the large bar at the same address that reigns over the Ramblas. What a life…
Like this article?
Click here!
Comments