Tapas bars and restaurants around the Ramblas to have lunch without paying a fortune
Restaurants on Barcelona's Ramblas are tourist traps to be avoided! Our selection of restaurants will help you find places to eat without paying a fortune.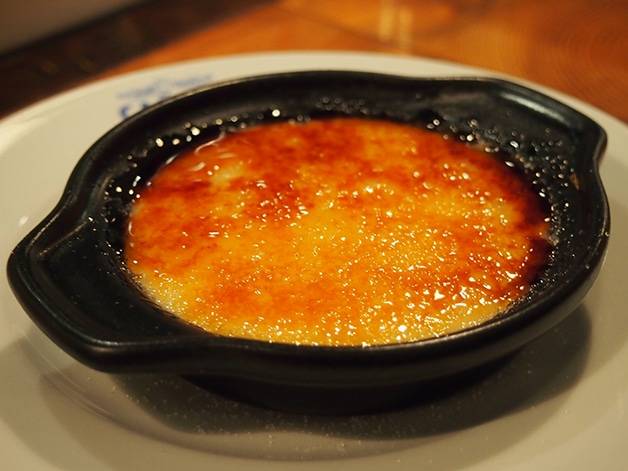 The Ramblas is a symbol of Barcelona. With flower stalls, portrait artists, living statues and the Christopher Columbus, it attracts an impressive number of visitors.
For this reason, poor restaurants or tourist-trap cafés also flourish along the Avenue…
Our advice: absolutely avoid the restaurants on the Ramblas and head to the adjacent streets. We have picked out a few places here where you can eat without breaking the bank!
 1- Mendizabal: the most relaxed
This unusual bar is a great place for a quick and tasty meal. Its sandwiches are among the most popular in Barcelona.
The menu displays around 40 bocadillos, each more appetising than the last. A choice of salads and tapas is also available, made from fresh and original produce.
You can order your sandwich from the bar that gives directly onto the street and eat it on the terrace or else enjoy it in the quiet room just next door.
How much? Between 3.50 and 10 euros
When? Monday to Saturday from 8:30am to 1am
Where? Junta de Comerç 2, Raval, metro Liceu (L3)
2- Cañete Barra: the classiest
The place
The Cañete is divided into two parts: Cañete Barra and Cañete Mantel.
Do not mix them up, as the latter is much more expensive!
At Cañete Barra, most of the seating is at the bar and you can watch the kitchen staff with their superb chef's hats, who look like they have just walked out of the cartoon Ratatouille, as well as the quick white-clad servers: it's quite a spectacle!
The lunch menu
We have gone ahead and tested for you (yes, it's a tough job), the weekday set lunch menu for around 16 euros. The price is a little higher than your average midday set menu, but this is really due to the quality and freshness of the ingredients. The portions are not huge but the dishes are very tasty.
Pear and cheese salad or seafood pasta, duck breast in pepper confit with spiced bread, or the fish of the day, seasonal fruits or home made crème catalane (photo below) were all on the menu we tried.
It is not possible to book a table if there are just two of you, but don't try to sit at the bar if you are three. There is a long wooden table for groups of 14 and two small tables at the entrance that can be reserved for groups of three or four. You should book ahead if you can, as the bar is very popular.
Attention! The set lunch menu is not available in August or at weekends.
Where? Carrer de la Unió, 17 Metro Liceu (L3)
When? Every day of the year from 1pm to midnight (closed on Sundays)
How much? Set lunch menu Monday to Friday: under 18 euros,
Telephone: +34 93 2 703 458. Reservation possible for 3 or more people
3- Victoria: the most satisfying
The place
Victoria is a local restaurant 5 minutes walk from the Ramblas. It is unpretentious and has a nice terrace that fills up quickly. To get a table there, be sure to arrive around 1pm, when it opens. Inside it's a pleasure to watch the regulars and the staff chatting and laughing together.
Lunch menu
Victoria offers a daily set menu with generous portions for around 10 euros, with a huge choice of starters and main courses.
You can choose from rice dishes (like paella), pasta, gazpacho, or salads as a starter, and from various meat or fish options as a main. For dessert we advise you to go for the crème catalane. Bread and a drink are included in the price.
Where? Carrer dels Angels, 8 (Raval) Metro Liceu (L3)
When? Every day from 10am to 11pm and until 1am on Fridays and Saturdays
How much? Around 10 euros for the set lunch menu
4- El cafetí: the most retro
The place
After the busy Ramblas, you will appreciate this quiet little restaurant. From your first course at Cafetí, you will feel like you're traveling through time to Barcelona at the beginning of the 20th century with furniture draped in white, and period and old-fashioned objects.
Menus
From 1:30pm, Cafetí offers a lunch menu for around 10 euros that is simple but good.
You can also go for the 20 euro menu that is offered every lunchtime and evening of the week, including the weekend, when you can enjoy it while listening to classical music by candlelight.
Where? Sant Rafael, 18, Metro Liceu L3
When? From 1:30pm to 4:30 and from 9pm to 1am. Closed Sunday evening and Mondays and annual holidays in August.
How much? Set menus for 10 or 20 euros
5- Bagauda: the most organic
The place
This bar is easily identified by the wooden chairs hanging from the walls opposite the bar. It offers an appealingly fresh menu of tapas and small plates.
No set menu here! Be careful, as a tapas menu can often be more expensive than a lunch menu, and as everything is very tempting the bill can become very long.
Tapas & co.
The various montaditos and their tomato bread are delicious. At Bagauda, the simple sight of the montaditos displayed on the bar reassures you of the freshness of the ingredients. They come from organic farms and are all very appetising. We recommend the home made croquettes! They're delicious!
Little minus: the service is not always as friendly as it could be, and it's a real shame.
Where? Carrer del pí, 5, metro Liceu L3
When? Open every day from 9am to midnight
How much? between 10 and 20 euros depending on your appetite.
6- Romesco: the most authentic
The place
Romesco is a little unpretentious local restaurant with a simple decor. The kitchen is run by a couple who have been working at Romesco for years.
On the plate
Romesco's recipe for success is simple: home made dishes at very low prices. You will therefore find bacalao a la llauna (typical Catalan cod dish), calamari, tortilla, gazpacho, fried liver, lamb, or chicken and fries…for around 6 euros. Really good value!
Where? Carrer de Sant Pau, 28 (Raval)
When? Monday to Friday from 1pm to 11:30pm, Saturday from 1pm to 4m and from 8pm to 11:30pm. Closed Monday and all of August.
How much? Around 6 euros per dish
Romesco is not easy to find as it faces onto Sant Pau street but on the right on a little street off Sant Pau.
Like this article?
Click here!
Comments