Bed & Bike, the perfect youth hostel for bike fans
Bed & Bike is a youth hostel built around a great concept. Get in the saddle and let them steer you in the right direction!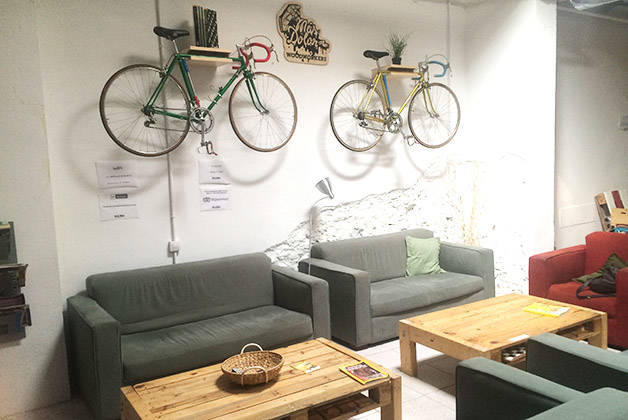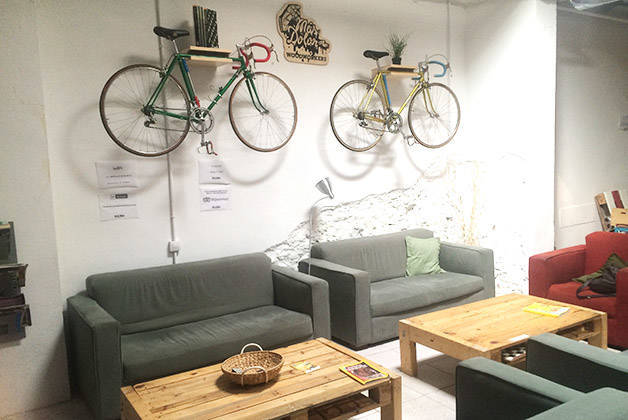 Where?
Diputació 360
Eixample
metro: Tetuan (L2)
When?
every day of the year
How much?
from 10 euro per person
Why?
for their free bike loan
Bed & Bike youth hostel was opened in 2014 by two Spanish globetrotters who returned to Barcelona to start their own business. And their innovative concept is perfect for this city.
Bed & Bike, an original concept that puts bikes first
As the name suggests, Bed & Bike reinvents the Bed & Breakfast concept: instead of supplying a bed and a breakfast you will have a bed and a bike. We think it's a great idea! Particularly because Barcelona is a very pleasant city to discover by bike due to the many cycle lanes.
This service is free for most of the year but payable during the Summer months.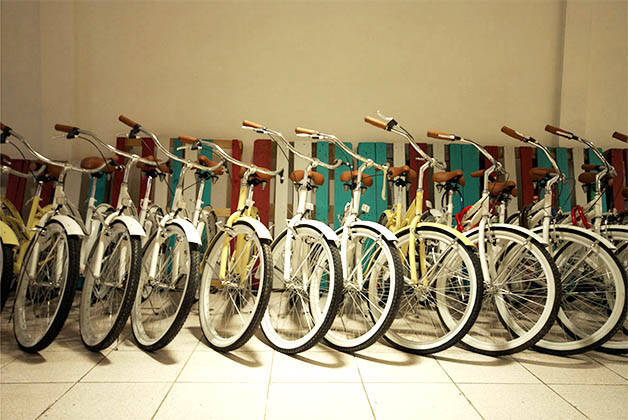 The hostel has 20 bicycles and 5 electric bikes for a total of 50 guests (when it's full). You will also get a lock and a helmet.
Rooms at Bed & Bike
Dormitories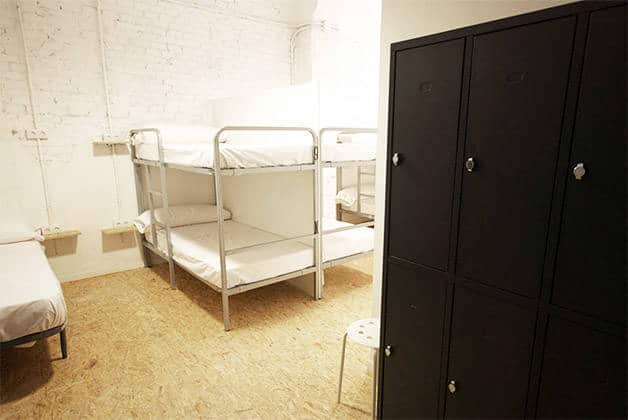 Bed & Bike is a youth hostel on a human scale and the owners have focused their attention on the common spaces. They have basically designed it to be large and welcoming, so there is not a huge number of beds in relation to the size of the place, which is quite pleasant.
There are 3 dormitories:
1 mixed dormitory with 14 beds with a large shared bathroom.
2 mixed dormitories with 12 beds with a large shared bathroom.
Electrical sockets are installed beside each bed, which is very useful! Lockers are also installed but you have to provide your own locks. You can either bring your own or buy one at reception.
Double rooms
Although the dormitories are on the ground floor, the double rooms are located on the first floor to differentiate them, as the guests in the rooms tend to be looking for more quiet than in the dormitories.
The 6 double rooms have quite a basic decor but they are very bright. Three of them have their own bathroom, and the other three of them share one.
The common areas of Bed & Bike
The common room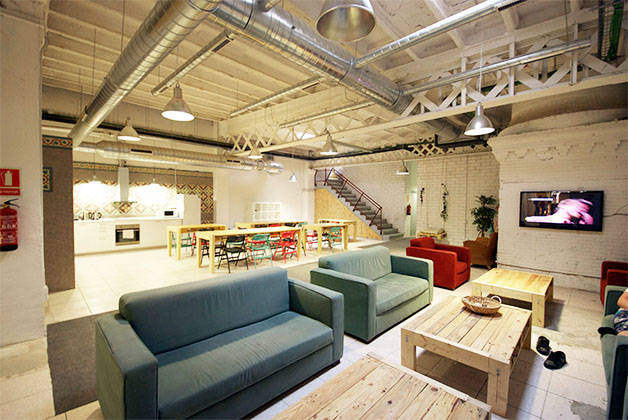 The Bed & Bike youth hostel is mostly quiet, and it's not somewhere where you can shout or party. However everything is set up to create a nice atmosphere where travellers can meet.
The common room is very large and you will find magazines, board games, playing cards, a book exchange corner or even a television (an English list of films is available at reception). Activities are organised regularly, so find out more from the staff!
The kitchen
The kitchen is large and well equipped (hob, fridge…), and there is a small space used by those who want to leave behind things they have not consumed, which is useful when you have just arrived and you haven't done any shopping for things like salt, pepper and oil…
Useful information
The hostel is completely adapted to people with reduced mobility
Check in is after 1pm and check out is before 10am
A luggage service is available
Reception is open 24 hours
Rooms and dormitories are equipped with heating and air conditioning
Computers are available
Like this article?
Click here!
Comments