July: a month of gastro-tapas on hotel terraces in Barcelona
July's Vespres Inedit's event offers the chance to try some truly special tapas on the terraces of Barcelona's best hotels - without breaking the bank!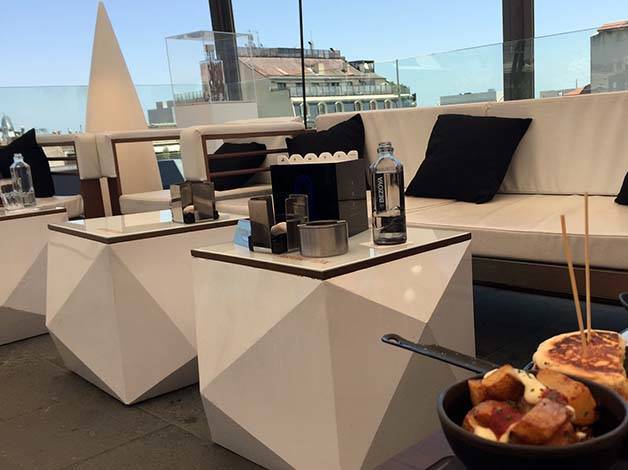 Où ?
24 prestigious hotel terraces
When?
July 6th-August 5th 2018
6pm - 9pm
How much?
2 tapas + 1 beer for €9
Why?
to start the evening in style
From July 6th till August 5th, 24 of Barcelona's best hotels will be throwing open their terraces for the latest edition of Vespres Inedit's. An excellent opportunity to try some remarkable tapas in sumptuous surroundings!
2 gastronomic tapas and 1 exclusive beer for 9 euros
Ice-cold beer and fabulous tapas on a heavenly hotel terrace…  even the idea is relaxing!
Vespres Inedit's is your chance to visit a whole range of hotel terraces for a relaxing, foodie experience, with cold beer and enticing gastro-tapas.
The offer includes an assortment of 2 tapas, along with a bottle of the exclusive Inedit d'Estrella Damm (created by Ferran Adrià, of El Bulli fame).
Gastro-tapas and high-end hotels
Participating hotels
There are numerous different tapas on offer, dreamed up by the head chefs of Barcelona's best hotels. Simply turn up to one of the hotels on the list from 6pm – 9pm during the month of July and take your place on the terrace!
Gallery Hotel
Gran Hotel Havana
H10 Casa Mimosa
H10 Madison (La Terrassa del Gòtic)
H10 Metropolitan
Hotel América Barcelona
Hotel Barcelona Princess
Hotel Casa Fuster
Hotel España (Terraza Alaire Ramblas)
Hotel Granvía
Hotel Indigo (DOQ Restaurant & Cocktail Bar)
Hotel Jazz
Hotel Midmost
Hotel Murmuri (El Passatge del Murmuri)
Hotel Negresco Princess
Hotel Ohla Barcelona
Hotel Pestana Arena
Hotel Pulitzer
Hotel SB Diagonal Zero
Hotel SB Glow
Hotel SB Icaria Barcelona
Hotel Yurbban (D'Aprop Restaurant)
Hotel W (Bravo 24 de Carles Abellán)
Marea Baja
Top tips to make the most of the event
Some of the tapas on offer are more original and have more of a "gastronomic" twist than others. Plan ahead and select your destination according to your personal tastes – click here to discover the tapas on offer at each hotel.
Certain terraces have an intimate, private feel, whilst others offer more flamboyant styling and panoramic views. Take a look at what's on offer to see what takes your fancy. Note that the terraces at the Hotel España, Hotel Condes de Barcelona and at the Pulitzer feature on our list of Barcelona's best hotel terraces.
If you're not a beer drinker, note that it may not be possible to swap your drink (or you may need to pay a supplement).
The offer is designed to be taken as an apéritif, not a meal in its own right.
Gastro-tapas and hotel terraces: photos
For pictures and more details, download the official event guide for Vespres inedit's.
Ready to start the evening off with the best panoramic views?
Like this article?
Click here!
Comments