Madanis: budget-friendly apartments minutes from the Barça stadium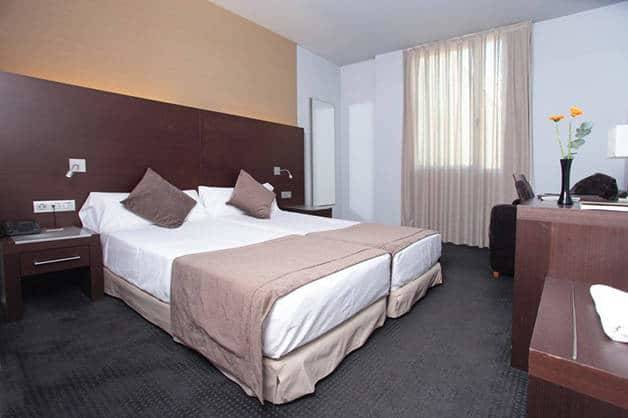 If you're travelling with a group or as a family, it may be a good idea to rent an apartment: not only will you have more space than in a hotel room, but it can also work out considerably cheaper.
A strategic location opposite Camp Nou
The Madanis apartments offer two major advantages: their budget-friendly prices, and their strategic location, barely 100 metres from Camp Nou.
Another advantage is that, as the Madanis is located in Hospitalet, restaurants and cafés are cheaper than in Barcelona itself. You won't be too far from the action, though, as the Collblanc metro station is just a stone's throw away.
Madanis apartments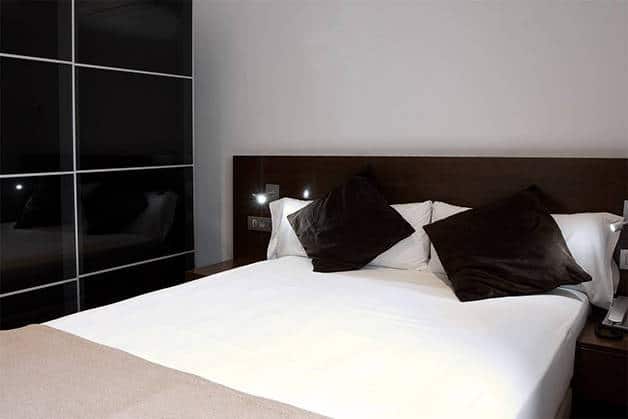 All of the apartments come with a wifi connection, safe, kitchen equipment, crockery, bed linen and towels. Towels can be exchanged as often as you like, free of charge, if you're staying for several nights.
The apartment is cleaned just before you arrive, then once a week. More frequent service is possible, but costs around 15 euros a time.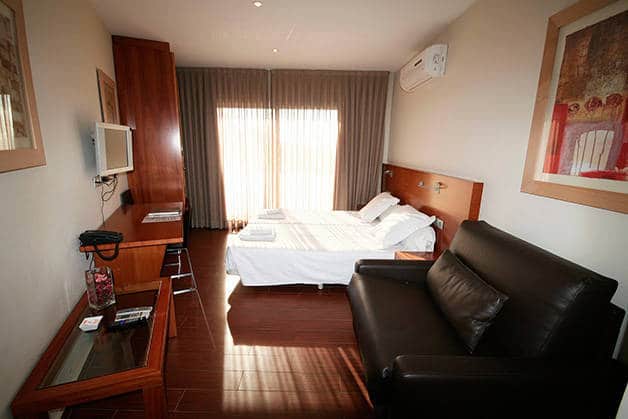 3 person apartments
The three-person apartments cover around 30 m2 and include a double bedroom, a lounge with sofa bed, a kitchen, a desk and a bathroom with a shower. Some also have a small terrace.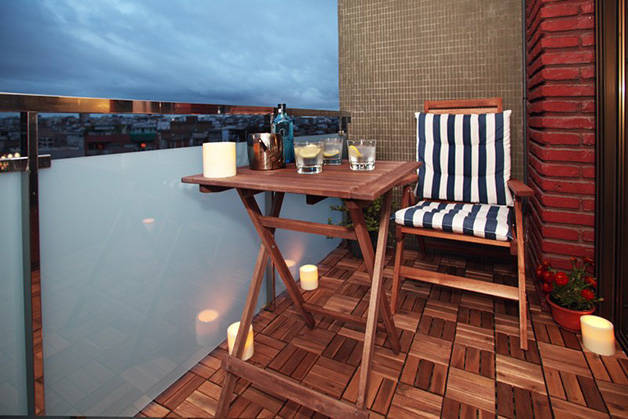 The special Barça apartment
The Madanis building also includes a Barça-themed apartment for 4. Kitted out in the team's colours, it somehow manages to avoid being kitsch. The décor is predominantly white, but with plenty of blue and burgundy touches, and the result is surprisingly attractive! If you think this apartment is the one for you, choose the "Blaugrana" option when booking. It's a little more expensive than the others, but it's a lot more original.
5 person apartments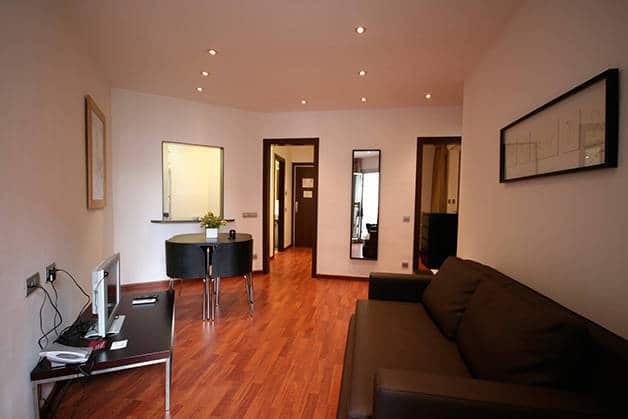 The five-person apartments cover 75m2 and include three bedrooms, a bathroom with shower, a fully-equipped kitchen and a lounge-dining area.
Services at Madanis
The Madanis apartments are part of a hotel complex which also includes conventional hotels of the same name nearby. In case of problems, go to the hotel reception. Breakfast can also be taken in the hotel restaurant.
There are several options, from a quick breakfast option for around 5 euros to a full buffet breakfast priced at around 10 euros. That said, many of the cafés nearby offer breakfast menus which are more typical and cheaper, so don't hesitate to go out looking!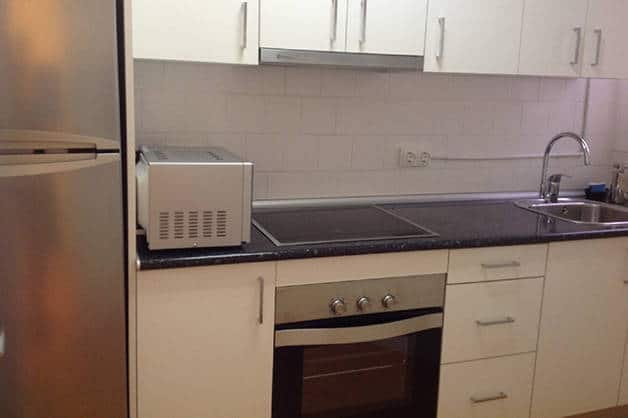 Useful information
Check-in is from 3pm, check-out by noon
The hotel reception, a few metres from the apartment block, is open 24/7
Some of the staff speak English
A concierge is on site from 9am-1pm and from 4pm-7.30pm
Pets weighing less than 10kg are allowed
There are metro and tour bus stops nearby.