Pasapalo: start your night out in a cool cocktail bar
In Barcelona, the time of the "botellones" (little groups of people drinking in the street) is over now, so it's time to hit the bars. So where is good to go before heading out dancing? Well for starters there's Pasapalo. Hidden in a little Poblesec street, this bar is only 5 minutes from the famous Apolo club.
It is currently one of our favourite places, as its subdued atmosphere, exotic food and colourful cocktails combine to make this little café a most welcoming place to start your evening.

Tasty dishes at Pasapalo
Here you will find a mixture of American, Venezuelan and Spanish influences in the various delicious, great value dishes.

Even the name of the restaurant comes from a typical Veneuzelan expression, as "Pasapalo" is the Venezuelan equivalent of tapas: little dishes that accompany a drink. The menu designed by the friendly couple who manage the bar is varied, but their star dish is their delicious home made "tequeños". These little treats are made for sharing (or not;), and lovers of melted cheese will be absolutely unable to resist!

However, the lovingly prepared burgers will also make your mouth water, and there are plenty to choose from, including a vegetarian option.
If you love exotic food, then you will love their authentic tapas range, including fried yuccas, and patacones (salted, fried bananas). You'll feel like your taste buds are on holidays!
Our favourite pasapalos are the goat's cheese burger and the tequeños: Amazing!

Pasapalo, a great place to drink
This bar has a very cozy atmosphere, and whether you are seated at a table or sitting comfortably on the couch at the entrance, you will definitely appreciate the extensive cocktail menu, with enough range and variety to satisfy even the most demanding customers.
There is also a great selection for craft beer lovers, and we particularly enjoyed the "Howling Cat"!
But be careful you could easily become dazzled by the colorful cocktail menu, particularly as the barman really knows his stuff, and classics such as mojitos and daquiris are made to perfection.
The drinks here are not made using sugary syrups but rather with fresh fruit or sorbets, and they are all mixed in front of you. Which makes Pasapalo a really special place to go for drinks!
Our favourite cocktail is the strawberry mojito (around €6)! Although we also loved the frozen daquiri made with summer fruits. You might find it hard to pick just one.
Pasapalo's lively atmosphere
The bar's considered decor makes it the ideal place for Sunday lunch or an evening drink. Pasapalo also sometimes hosts temporary art and drawing exhibitions.
But Pasapalo is also known for its party atmosphere, and excellent independent DJs are often invited to play.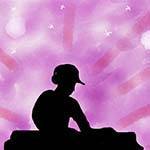 These little extras at Pasapalo make it a dream place for a night out with friends, a romantic drink, or a quick fuel stop before a night on the town.
Behind the bar is a Homer Simpson quote: "Beer is the beginning and end of all my problems". As mentioned it's hard to say no to their craft beer! So, don't worry, you're absolutely bound to have a great time at Pasapalo!