Carretera de les Aigües: a walk above Barcelona with beautiful panoramic views
La Carretera de les Aigües
is a 20km path above Barcelona, running the length of the Collserola mountain. Its name can be translated as The Path of Waters in English. Originally it was a place where all the water sources that supplied Barcelona were located. These days the path has become a paradise for hikers.
What should you do on the Carretera de les Aigües?
Walking and races
You can easily pass a lot of people jogging or walking alone or in groups. It is a place surrounded by plant life, and it is fairly exposed and flat, which makes it ideal for these activities.
Getting around on a bicycle or electric bike
You will find fewer cyclists than hikers but it is a nice idea to cycle along the path. You can get across the whole mountain in no time! If you rent a bicycle in the village there is no slope, apart from the one you go up to get there.
Admire the view
The best part for me is the view of Barcelona! If you love a beautiful panorama, this is the right place for you as you get a spectacular view from this path! You can see the sea on the horizon with the whole city at your feet, and you can easily spot the Torre Agbar, the top of the Montjuïc, and the famous Sagrada Familia!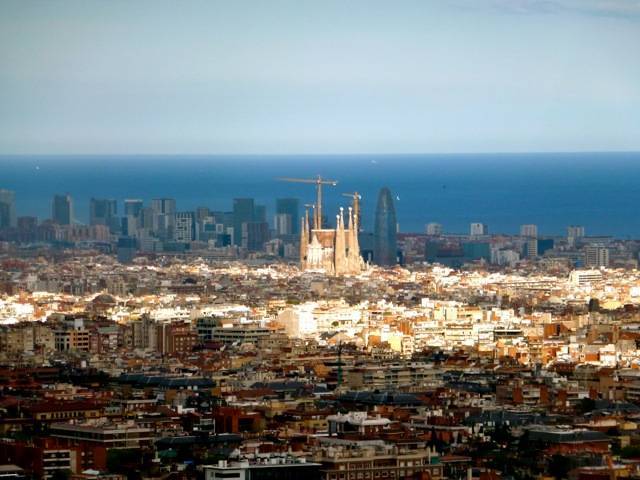 If you're looking for something a little quieter
On the map below you can see where you should start from. It's generally a quieter path and the views are magnificent! I am a big fan of a panoramic view, and this part of the path is my favourite!
Advice for enjoying your walk
Wear comfortable clothes and good shoes. The whole length of the path is earth so you should be well equipped.
Walk in the morning, when the summer heat is not too stifling.
Take sun screen and protection with you. The sun is really strong on the mountain!
Bring a bottle of water as their aren't too many drinking fountains along the path.
Don't forget your camera!
Avoid going between 1pm and 6pm as these are the hottest hours of the day.
Don't go during the busiest time, between 5pm and 7pm, or you run the risk of bumping into a lot of runners, walkers and cyclists.
If you are running in winter, don't cover up too much or you could easily get too hot.
How to get there?
Train from Plaça Catalunya – S1 dirección Terrassa / S2 dirección Sabadell
Stop Peu del Funicular – Then cable car towards Vallvidrera, stop Carretera de les Aigües.