Contemporary architecture in Barcelona: the most significant buildings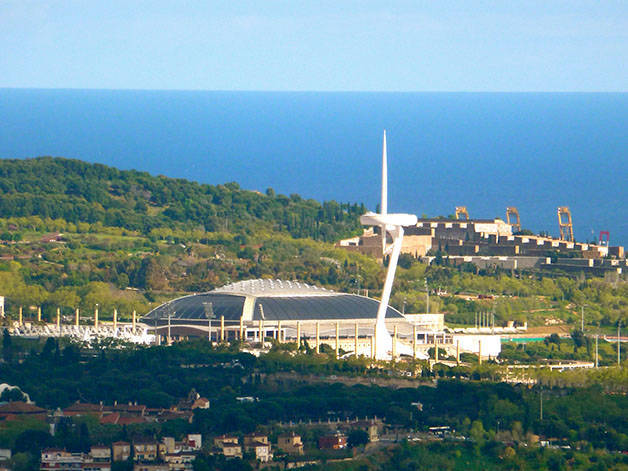 Any architecture lover will tell you: Barcelona is an extremely rich city.
In the same day you can stroll among the old stones of the Gothic district, discover the city's Art Nouveau wonders, and even explore some of Barcelona's contemporary architecture.
Barcelona, a city turned towards the future
Not long ago the city was named European Capital for Innovation, which has an exciting impact on architecture and urban design.
Contemporary architecture's aesthetic in Barcelona
Since the 20th century, internationally renowned architects have contributed to the history of Barcelona. The 1929 World Expo and the 1992 Olympic Games were world events that attracted the attention of world-renowned architects.
Buildings constructed in the last decade are reminiscent of modern art styles such as cubism, neoplasticism or even futurism.
Buildings not to miss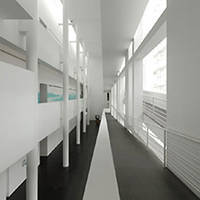 Barcelona Museum of Contemporary Art (MACBA), Richard Meier
: MACBA is an unmissable monument.
Modern lines, startling whiteness and colossal dimensions contrast with its surroundings in the old city, but that only works to its advantage, helping it to stand out.
Read our article on MACBA to find out more about this sublime museum.
Where? Plaça dels Angels, Raval
: Completed less than 10 years ago, this tower measuring 144 metres tall and consisting of 38 floors, surprises with its round shape, designed to echo the Sagrada Familia. Its double skin made from shutters of graduated glass, that change from red to blue as you go up the floors is extremely impressive!
At night the tower lights up with 16 million colours thanks to the 4500 LED lights and a combination of hardware and software.
Where? Av. Diagonal 211, Sant Martí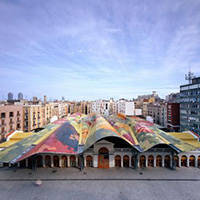 Santa Catarina Market, Miralles & Tagliabue
: Santa Caterina is historically the city's first covered market.
Its roof was completely redone in 2005 with impressive results. Waved and multi-coloured it represents the colourful arrays of the market and is a homage to the work of Gaudí and his use of pieces of broken ceramic..
Where? Av. de Fransec Cambó 16, Born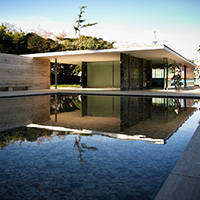 Barcelona Pavilion, Mies van der Rohe
: It was built in 1929 to represent Germany in the World Expo. Although it is almost a century old, it appears much more contemporary than many more recent buildings.
It was taken down at the end of the exhibition, but it was felt that it brought so much to architectural history that a group of Catalan architects decided to rebuild it identically in the 1908s.
Where? Avenida Francesc Ferrer i Guàrdia 7, Montjuïc
While its neighbour the Agbar tower is strikingly vertical, the design museum is particularly horizontal,which creates a dialogue between these two major works.
Its construction was a real feat, as it involved creating a building that represented its function (becoming a key design centre) while offering a space that wouldn't overshadow the works being exhibited there.
Where? Plaça de les Glòries Catalanes 27, Sant Martí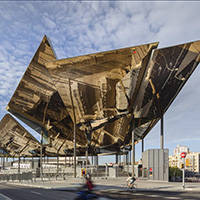 Mercat dels Encants, Fermín Vázquez
: One of the oldest flea markets in Europe. It was organised in open air and in a quite chaotic manner until the city authorities decided in 2008 to hold an architecture competition and build a permanent structure to house the market.
The winning structure pays homage to the history of the Encants by creating an open space while giving it an immense futurist roof.
Where? Calle Castillejos 158, Sant Martí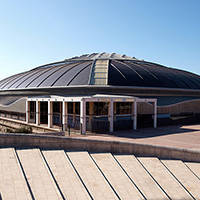 Palau Sant Jordi, Arata Isozaki
: The Palau Sant Jordi is considered a modern architectural masterpiece.
It was opened in 1990 and served as the principal room in the Olympic games in 1992.
Today the space is used for many events such as concerts, due to its huge capacity and its exceptional acoustics.
Where? Olympic Village, Montjuïc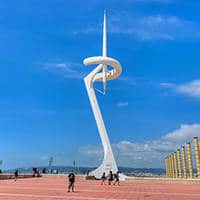 Montjuïc Telecommunications Tower, Santiago Calatrava
: It was built at the time of the Olympic Games.
It is distinguishable by its innovative design that creates a silhouette of an athlete carrying the Olympic flame. At the bottom of the tower you will notice a trencadís decoration, a technique invented by Gaudí using pieces of broken ceramic.
Where? Olympic Village, Montjuïc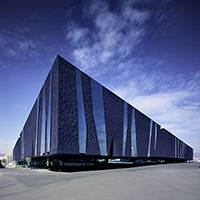 Fòrum building, Herzog & De Meuron
: Here is a unique building! This colossal triangle is particularly innovative as it goes beyond square and rectangular shapes to create its own rules. Today it houses the Museu Blau (blue museum), which is part of the Barcelona Natural History Museum.
Where? Fòrum park, Sant Martí
: This unique project involved turning an office building into luxury tourist apartments.
The building's peculiarity lies in its geographic location: in the middle of Passeig de Gràcia, it's directly opposite Gaudí's Pedrera.
Its curved facade not only echos the Pedrera but also allows one to see out of the apartments without being seen.
Where? Passeig de Gràcia 83, Eixample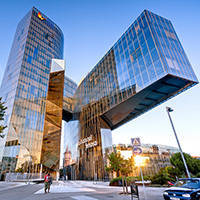 Natural Gas Building, Miralles & Tagliabue
is located in the Barceloneta area.
The architects effectively built a tower and added some horizontal elements, as a reminder of the urban design norms of the area, and the result is impressive. At night, the butterfly logo seems to float by itself in the sky, adding a poetic touch to the construction.
Where? Plaça del Gas, Barceloneta
: ME hotel shares many characteristics with the Natural Gas building.
A large cube and a rectangular parallelipipoid act to counterbalance the large tower and enrich its shape. You will also notice that the tower is wide but not deep: which means there is a view from almost anywhere in the building.
Where? Carrer de Pere IV 272, Sant Martí
Fòrum convention centre, Josep Lluís Mateo
: this gigantic 22000 square metre building was built in 2004 to house the UNESCO Universal Forum of Cultures.
The architect's aim was to let the maximum light inside the building. The result is very pleasant and harmonious with the other buildings in the Fòrum area.
Where? Plaça de Willy Brandt 11-14, Sant Martí
: This tower won the prize for best skyscraper in the world. It is located at the Hospitalet de Llobregat, on the edges of Barcelona. The Japanese architect was inspired by the shape of lotus flowers, while giving it a bold avant-garde functional aspect.
Where? Plaza Europa 45-47, Hospitalet de Llobregat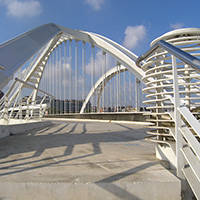 Bac de Roda bridge, Santiago Calatrava
: This "white bridge of Barcelona" and winner of the 1987 FAD architectural prize, was inspired by the lines and curves of the human body. It was built to provide an overhead path above a railway to link the long-marginal Sant Andreu area to the rest of the city, while giving it a more modern image at the same time.
Where? Carrer de Felip II, Sant Andreu