La Pedrera or Casa Milà: a grandiose testimony to Gaudí's genius
With its unusual curved facade, its extraordinary terrace and the Gaudí museum inside, la Pedrera is a must-see in Barcelona!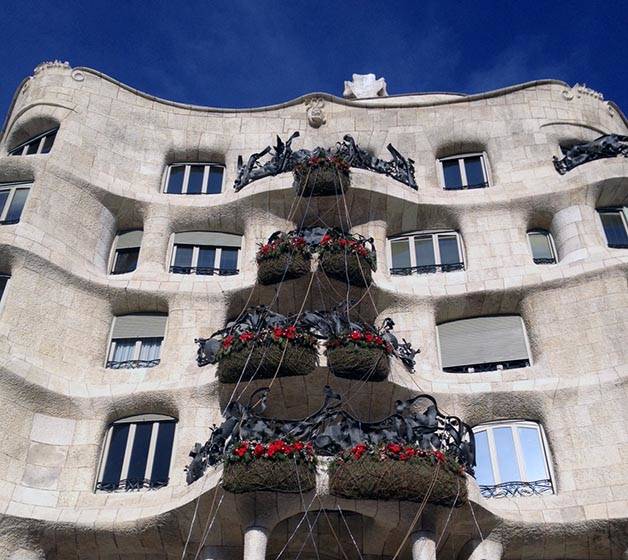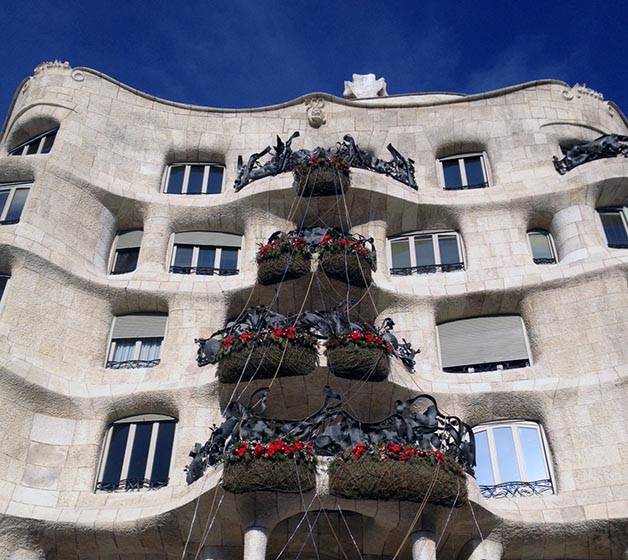 Where?
Eixample
metro: Diagonal (L3 L5)
Provença 261
When?
From 1st of March to 4th November 9am to 8pm
From 5th November to 28th February 9am to 6:30pm
Why?
for its incredible view
for its originality
The curved walls and the bizarre shapes of the cast iron balconies of the Pedrera surprise and fascinate people every day, so go along and feast your eyes!
La Pedrera, built between 1906 and 1912 has been open to the public since 1996 and has been classed as a UNESCO world heritage site since 1984.
Casa Milà, if we use its real name, is nicknamed "la Pedrera" because of the use of stone blocks in the façade, pedrera meaning quarry in Catalan.
Architectural prowess
To make la Pedrera curved, Gaudí had the ingenious idea of weighing the building with a series of columns and beams, rather than with the external walls, leaving them free to take the serpentine shape that the architect wanted.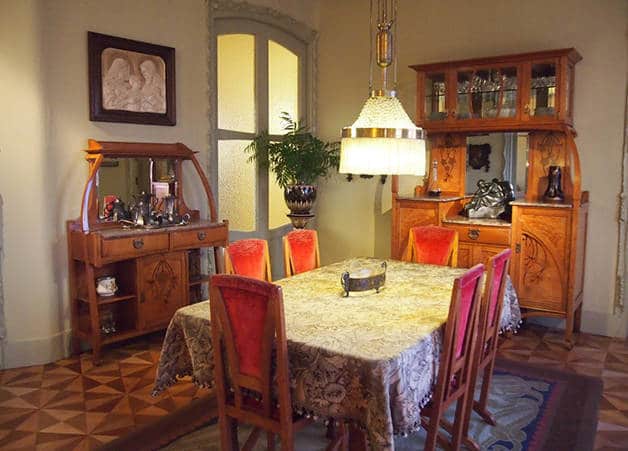 The terrace at la Pedrera or casa Milà
Colours and view
The terrace is without doubt the most impressive part of the building. Its amber colour contrasts with the magnificent blue of the Barcelona sky and the view of the city is breathtaking!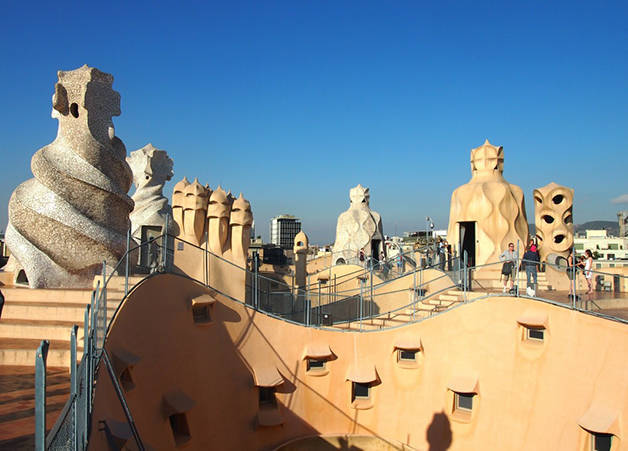 Unreal visions
The terrace is strewn with impressive staircases and chimneys: mushrooms, meringues, or knights? Let your imagination run wild!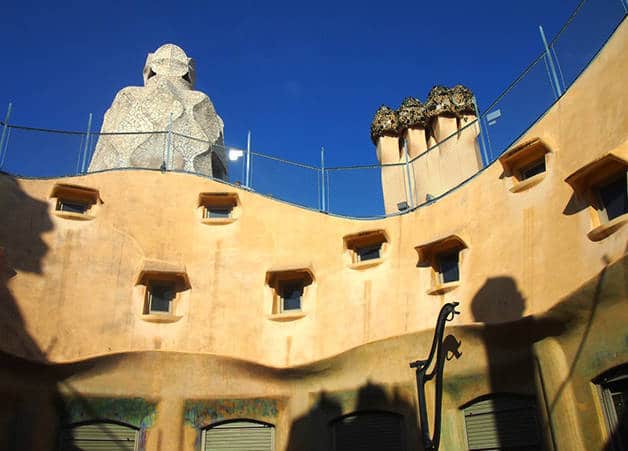 Just as every distinguished man wore a hat at the beginning of the 20th Century, Gaudí imagined that buildings should have a considered and elegant roof. Without any doubt, he managed this with some success!
Gaudí space
The Gaudí space, arranged in the loft formed by the large stone arch, gives a general view of Gaudí's works and his method.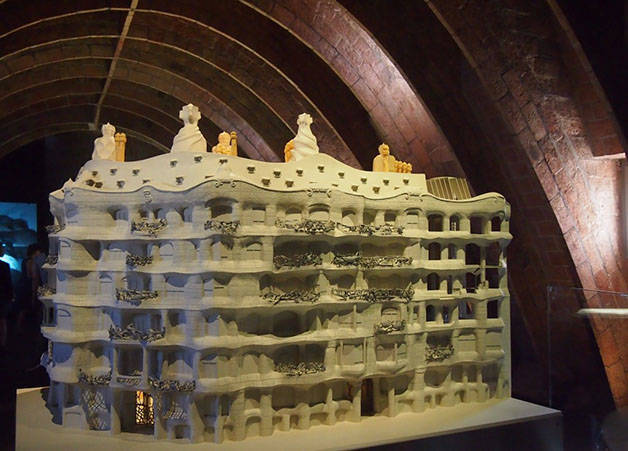 Various plans, models and videos explain the works of la Pedrera as well as the Sagrada Familia, Parc Güell, Colonia Güell and Casa Batlló. Furniture designs are also exhibited. They are the same ones as at Casa Batlló.
The Casa Milà- Pedrera apartment
The visit winds up in a 4th floor apartment in the Pedrera, containing period furniture.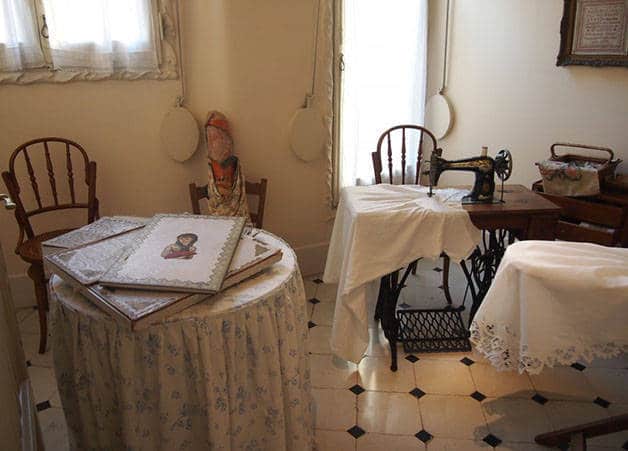 Our advice for visiting la Pedrera
To avoid the crowds, arrive around 9am.
Buy your fast-track tickets here.
Visit la Pedrera at the beginning of your stay in Barcelona. As the Gaudí space offers an abundance of information on the architect's works, it will help you see his other works with a more informed view.
Useful information
Types of visit
Standard.
Gaudí's Pedrera-The Origins (both tour and show). After dark, various projections are shown throughout the Pedrera (available in English and Spanish)
Nits d'Estiu: a jazz concert on the Pedrera terrace takes place in the evenings from June to September.
Gaudí Pass: Sagrada Familia + Casa Milà + Bus Turistic + Access to the top of the Columbus Monument
The Gaudí pass is interesting if you can't get any discount for any of the separate tickets. You can save around 7 euros if you enjoy all it offers.
It allows you to take de tourist bus for 1 day and gives you access to two of the main masterpieces of Gaudí (Sagrada Familia and La Pedrera) and to the to the top of the Columbus Monument, located the Ramblas.
Basic ticket to visit the Sagrada Familia (you will have to choose the day and time after purchasing  the Gaudí pass).

Fast-track ticket to La Pedrera with audioguide in English.

1-day tourist bus ticket + tourist bus information guide in 3 languages ​​with information about the stops of the different routes + audioguide in English aboard the Tourist Bus + discount booklet for tourist visits

Wine tasting and visit to the top of the Columbus Monument.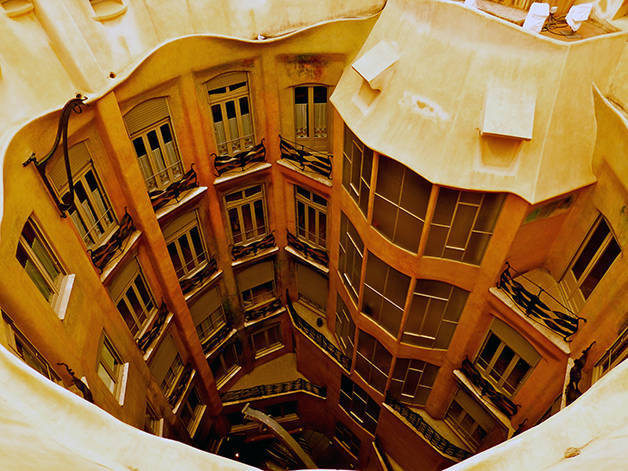 Price
Day visit: 20.50 euros standard price 16.50 euros for students or people with reduced mobility, 10.25 euros for children from 7 to 12, free for under 7s.
Very interesting audio guide is included in the price. There are two versions, one is 40 minutes and the other is 75 minutes.
Gaudí's Pedrera-The Origins: 34 euros for adults, 17 euros for children from 7 to 12, free for under 7s (glass of Cava included).
Nits d'Estiu: around 30 euros.
Opening times
Daily visit times:
Every day from 9am to 8:30pm (last entry is at 8pm)
1st of January: 11am to 8:30pm (last entry at 8pm)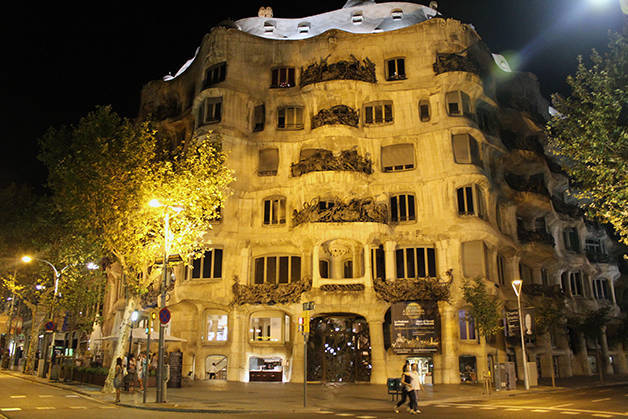 Gaudí's Pedrera-The Origins:
From 4th January to 2nd March: Monday to Sunday 7pm to 9pm
From 3rd March to 1st November: Monday to Sunday from 9pm
From 1st November to 24th December: Monday to Sunday 7pm to 9pm.
From 26th December to 3rd January: Monday to Sunday 9pm to 11pm.
Nits d'Estiu:
End of June to beginning of September, Thursdays, Fridays and Saturdays
Doors open at 9:45pm, concert from 10:30 to 11:45
Accessibility
Accessible to people with reduced mobility
Bus: 7, 16, 17, 22, 24 and 28.
Metro Diagonal: lines 3 and 5
Like this article?
Click here!
Comments