Where to see flamenco in Barcelona?
If you can't imagine a trip to Barcelona without seeing flamenco even though the style of music is traditionally Andalusian, then here are some places to catch a show.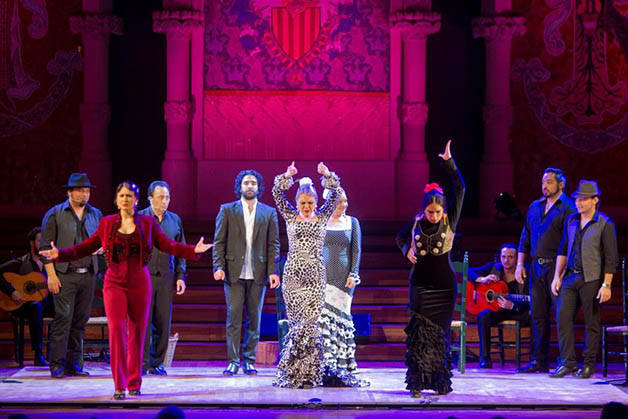 Flamenco is an Andalusian style of music and dance. It is still most popular in the South of Spain. However, it also has roots in Catalonia, despite its complicated history.
Flamenco in Catalonia
Professional flamenco appeared in Catalonia over a century ago. The big names were from Barcelona, such as Carmen Amaya, a dancer who was admired all over the world (even Hollywood!).
Intellectuals and puritans initially thought it represented some kind of moral decline or degradation, but never managed to halt its growing success.
During the dictatorship, regional differences were forbidden and suppressed and Franco made flamenco a symbol of Spanish identity. Flamenco culture was associated with supporting Franco and rejecting Catalan identity, so in Barcelona and its surroundings, they preferred the Catalan rumba or the Sardana.
After the death of Franco, flamenco festivals were organised in Catalonia in order to restore the tradition to the region, and a new flamenco scene emerged, helped largely by the massive Andalusian immigration that had occurred in the 50s and 60s.
Today, even if it's not part of Catalan culture, it is an accepted genre in Barcelona.
Seeing a flamenco performance at the Tablao de Carmen in the Poble Espanyol
El Tablao de Carmen is located in Poble Espanyol, a mini-town that houses the streets, monuments and typical restaurants from all over Spain. You can travel all over the country without leaving Barcelona!
This tablao owes its name to the great dancer Carmen Amaya. In fact, it was precisely a family member who conceived the place for flamenco dancing. Nowadays, the owner is the daughter of the founder of the place, and you can see her passion for flamenco. The place is decorated with taste and everything is thought out in detail.
There are two entrances, one of them is a typical patio from Córdoba, a very cozy space, ideal to have a drink before the show.

It's a classical show, with a cast of eight artists composed of four dancers, two guitarists and two singers.

The show takes place in a unique space, I felt taken to the authentic Andalusia! It's a very original place divided into two levels, this allows an approach between the public and the artists, and in my case, a panoramic view of the space from the tables at the top.

There is the option to enjoy a traditional tapas dinner (delicious!) orr even a more exclusive dinner.
The price of the show also includes the tickets to Poble Espanyol. You have the opportunity to take a walk and discover the traditions and architectural characteristics of Spain!

The atmosphere and the flamenco made me travel to the south of Spain (which I personally love). I enjoyed an impressive show of the most authentic flamenco! 
Why? For the quality of the show
How much?  From €43
When?  Every day at 6pm and 8:30pm
Where? Poble Espanyol, metro: Plaza Espanya (L1, L3), buses: 13, 23, 150
Seeing a flamenco performance at the Dalmases Palace

Located in the old city the Palau Dalmases is a baroque building that provides a magnificent setting for flamenco performances.
To find out more, read our article on flamenco performances at the Palau Dalmases
Option 1: Flamenco performance and a drink
In this unique setting, you can attend a one-hour flamenco performance with dance, singing and guitar.
A drink is included in the price.
Why? For its unique setting
How much? €25
When? Every day at 6pm, 7:30pm and 9:30pm.
Where? Montcada 20, Born, metro Jaume I (L4)
Option 2: Guided English tour of Born + flamenco and tapas dinner
This complete and very varied tour costs 75 euros, lasts 3 and a half hours. It includes:
A guided tour of the Born district with an English speaking guide.

The entrance to the Basilica of Santa Maria del Mar with access to the tower.

A good quality flamenco show at the Palau Dalmases.

A tapas meal with consumption.
Flamenco in the sublime art nouveau surroundings of Palau de la Música
The Palau de la Música is one of the most beautiful buildings in the city. Designed by the architect Domènech i Montaner, it is one of the Catalan art nouveau gems.
Luckily, these days the venue is a sumptuous performance hall. The line up is eclectic and flamenco performances are frequently on the programme. It's a great way to enjoy an absolutely exceptional show!
And do not worry, the solemnity of the surroundings does not prevent the audience from standing to dance or clap their hands to the beat of the flamenco rhythm. This we can say for sure, as we've been there!
Opera y Flamenco: a hit show in Barcelona
Opera y Flamenco is a work directed by famous Spanish choreographer, Rafael Amargo. This show, which has been broadcast and seen by more than 3 million viewers, combines flamenco with famous opera arias. It tackles themes such as love, jealousy and passion, interpreted by very talented artists.
If you do not like combinations of different styles, then this show is not for you.The combination of flamenco and opera association is quite surprising and may not appeal to everyone. (Although it's worth noting that the performance involves more dancing than singing).
We strongly urge you to go see the show at the Palau de la Música as this magical location adds a great deal to the experience.
Why? For the exceptional surroundings
How much? Prices vary (from €38)
When? See programme
Where? Carrer del Palau de la Música, Born (metro Urquinaona) or Teatro Poliorama (metro Plaça Catalunya or Liceu)
Flamenco show in the intimate hall of Los Tarantos
Los Tarantos is a unique flamenco hall in Barcelona. This tablao (name given to the site of flamenco performances) opened its doors in 1963 and has seen many intellectuals, music lovers and celebrities pass through to see the performances. Today, new talents perform here daily.
Performances last 30 minutes and take place everyday at 8:30, 9:30 and 10:30pm, so you shouldn't have too much trouble fitting it in to your schedule!
Why? For its authenticity
How much? 15 euros
When? Every day at 7:30, 8:30 and 9:30pm
Where? Plaça Reial 17, Gothic (metro Liceu or Drassanes)
Top tip: see a flamenco performance on the Ramblas
The Tablao Cordobés is probably the best known flamenco venue for tourists. It is located on the Ramblas, in the city centre.
The show lasts two and a half hours and costs €44.
We haven't attended any performances at Tablao Cordobés so we can't give you an opinion on it but the online reviews are mostly positive (although the reviewers might not be experts).
Why? To attend a Flamenco show in the city centre.
How much? €44 (€78 with meal)
When? Every day at 8:15pm and 10pm
Where? La Ramblas 35, Raval (metro Liceu)
See flamenco in the spring in the Feria de Abril
The city of Barcelona also celebrates the Feria de Abril, a festival that originally took place in Seville in a gigantic space measuring 87,000 square metres! You can attend flamenco performances (and other types of dance typical of Southern Spain), and parades, enjoy Andalusian food, and even take a look around a number of amusements! This is a great chance to see traditions of Seville without leaving Barcelona!
Why? For its festive atmosphere
How much? Free
When? Generally the last week in April
Where? Plaça del Fòrum, 1 (Metro El Maresme Forum)
Like this article?
Click here!
Comments