Magical fountains in Barcelona: an impressive (and free) sound and light show
Looking for a night time show that's beautiful and also happens to be free? Barcelona's magical fountains offer a fascinating light and sound show for young and old.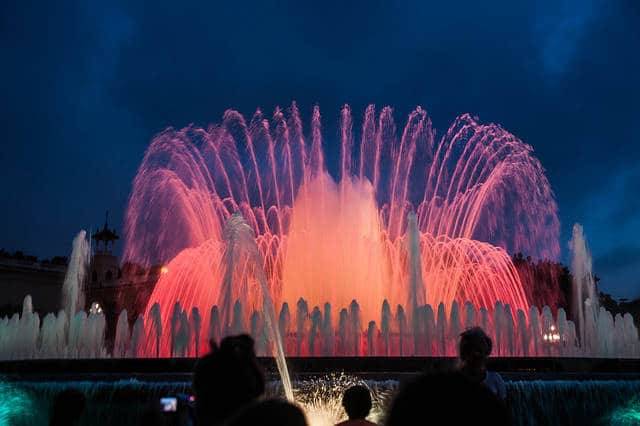 The magical fountains of Montjuïc have been one of the symbols of Barcelona since the 1929 World Expo and these days they are still considered a fabulous spectacle of light and sound.
The fountains of Plaça Catalunya, renovated in 2015, have recently joined the movement and now light up in a thousand colours several evenings a week.
The magical fountains of Montjuïc
With the majestic Exhibition Palace (now the Museum of Catalan National Art) as a backdrop, the magical fountains at Montjuïc are one of the most popular attractions for families visiting Barcelona.
The advanced technology of Montjuïc's magical fountains
It must be said that the sound and light show that takes place several times a week is really superb! The fountains of Montjuïc have more than 7 billion possible combinations of water and light due to a complex system of hydraulic elements and light. Simple, right?
The fountains' technology is very advanced, as a choreographic generator creates a spectacle depending on an analysis of the music playing. The musical rhythm and structure are taken into account as well as the emotions inspired by whatever music is being played. Impressive!
Special shows of the Montjuïc magical fountains
La Mercè 
In September, the Montjuïc magical fountains display their special sound and lights at the Mercè festival, the celebration of the patron saint of Barcelona. The show is combined with fireworks to beautiful effect.
The Barcelona jazz festival

In Autumn at the 47 Voll-Damm Internacional Jazz Festival, pieces composed by the great artists of jazz (Billie Holiday, Frank Sinatra…) set the rhythm for the magical fountains of  Montjuïc at different times.
The end of year holidays

The end of year holidays are also a special period for going to the magical fountains as the music selected is made up of Christmas songs. To get you into the Christmas spirit!
Special sessions are organised on the 25th, 26th and 31st of December as well as the 1st and the 5th of January if it falls on a day where no show is planned.
Sound and light timetable
Autumn/Winter
From November to March
Thursdays, Fridays and Saturdays from 8pm to 8pm
Show times: 8pm and 8:30pm
Spring/Summer
From April to October
April, May and October
Thursdays, Fridays and Saturdays 9pm to 10pm
Show times: 9pm and 9:30pm
June, July, August and September
Wednesday to Sunday 9:30pm to 10:30pm
Show times: 9:30pm and 10pm
The sound and light is interrupted for part of the year to maintain the fountains. Generally it happens between the 7th of January and the end of February.
Why? For its impressive technology
How much? Free
Where? Plaça de Carles Buïgas, metro Espanya (L1, L3)
The magical fountains of Plaça Catalunya
A new and different show
Since their renovation in 2015, the fountains in the Plaça Catalunya have also been fitted with a system of coloured lights that light up when night falls.
The show is different to the magical fountains at Montjuïc as the music does not sound across the square. To enjoy the whole synchronised show with sound, download the free Font BCN app, designed by Barcelona town hall. It is an ingenious way to combine a superb city centre show with peace and quiet for the local residents!
Timetables of the magical fountain in the Plaça Catalunya
Spring/Summer
April to October
Thursdays, Fridays, Saturdays and Sundays
Shows start at 9pm, 9:30pm, 10pm, 10:30pm, 11pm and 11:30pm
Autumn/Winter
November to March
Every Friday and Saturday
Shows start at 7pm, 7:30pm, 8pm, 8:30pm, 9pm, 9:30pm, 10pm and 10:30pm
Why? For its central location
How much? Free
Where? Plaça Catalunya, metro Catalunya (L1, L3, L6, L7)
Visit the magic lights of Barcelona by bike
Would you like to take a bike ride at sunset? It is the best time to see the most magical lights of Barcelona!
And if we also tell you that you go with a nice guide who gives you explanations while you pedal around the city?
Come and admire the emblematic buildings of Barcelona illuminated and enjoy an incredible light and sound show!
How much? €40 (includes: bike rental and

3h

guided tour)
When? Fridays and Saturdays at 7pm
Where? carrer d'en Roca 7, metro: Liceu (L3)
Ready for magic?
Like this article?
Click here!
Comments