Primavera Sound: Barcelona's indie rock festival
Primavera Sound in Barcelona means good music and international artists, against a backdrop of sun and sea. Interested?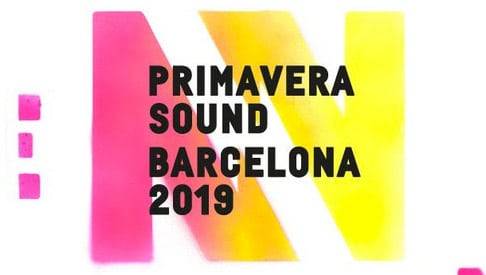 When?
From the 27th of May to the 2nd of June 2019
Why?
For a great night
for renowned DJs and artists
Started in 2001 in Barcelona, Primavera Sound is today one of the biggest festivals in Europe. The lineup? Sun, musical discoveries and a great atmosphere. It's not bad!
The Primavera Sound 2019 line up
The line up focuses as much on emerging electro and indie rock groups as on more well known bands. Interpol, Rosalía, James Blake, Tame Impala and J Balvin, among others, will be involved in 2019 and we are very excited!
In total, more than 70 artists participate in the festival. The complete list of concerts is visible on the official Primavera Sound site.
Tickets for the entire Primavera Sound festival
As soon as you know you are coming to Barcelona for Primavera Sound you should buy your tickets immediately, for the simple reason that the longer you wait the more the price goes up.
To get the lowest price you will need to buy your ticket a full year in advance: those who bought tickets in July 2018 paid 150 euros for entry to all the concerts in the 2019 festival.
Sales then continue all year long, with the price changing roughly every 3 months. If you buy your ticket between the end of June and January it will cost 180 euros. Starting in January, the ticket will cost you around 195-215 euros. It's not cheap but there really are a lot of concerts.
Hurry up! Tickets for the whole festival are sold out very quickly. If they are already sold out, it is possible to buy tickets by e-ticket transfer through a secure site. Although remember the prices set by the sellers here are generally higher than those on the Primavera site, but you will at least be able to attend a super festival in 2018.
Tickets for 1 day

If you are interested in the line up of just one day of the festival you can just buy a ticket for that day. It will cost you 85 or 95 euros depending on when you buy it: again the earlier you buy, the cheaper it is.
Warning! Tickets are named. To enter a concert you have to show ID.
Primavera Sound Top Tips
Free concerts
Tickets to Primavera Sound are not exactly cheap. Luckily some concerts are free and open to all! In 2014, for example, it was possible to attend a free concert by Stromae!
Entry restrictions for Primavera Sound
Primavera Sound bracelet and pass
Your Primavera Sound ticket will be exchanged as soon as you arrive. Organisers give you a bracelet and a pass that you should present every time enter a concert.
Do not destroy or lose these as without them you will not be allowed in.
Minors
Entry is free for children aged 14 and under.
Young people over 15 need a paid ticket and to be accompanied by their parent or a legal guardian. You will need to present ID at the entrance as well as a document proving you are the parent or legal guardian.
Minors aged 16 and 17 do not need to be accompanied.
Some events organised before and after concerts are restricted to people over 18.
Forbidden items
Recording devices and professional cameras (such as Reflex) are not permitted.
It is not permitted to bring drinks in. However you can bring in food.
Useful information
A paid locker service is available at the entrance.
The Primavera Sound organisers advise you to wear comfortable shoes, a hat, sunglasses, a jumper or jacket for the evening and a rain coat in case of bad weather.
The stages have areas specially designed for people with reduced mobility where they can be accompanied by one person.
Now what do you say, are you ready to Spring into action?!
Like this article?
Click here!
Comments