Tast a la Rambla: June's foodie week in Barcelona
Tast a la Rambla is an event which combines two of the most iconic elements of Barcelona: Las Ramblas, and food! A unique treat for the senses.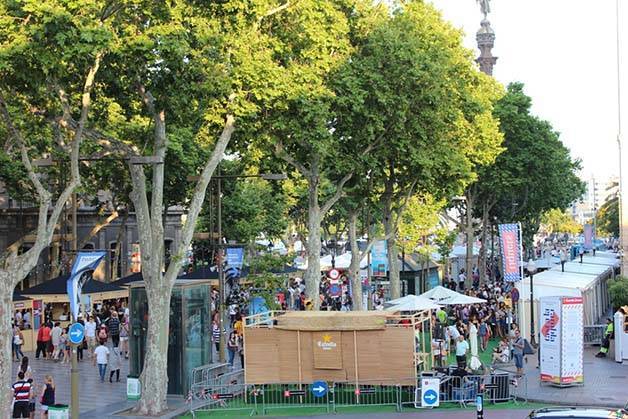 Où ?
Rambla de Santa Mònica
When?
8th - 11th June 2017
How much?
free workshops
tasting sessions 4 euros
Why?
To discover new foods
From 8th – 11th June 2017, around 50 restaurants and over 80 chefs will come together along one of Barcelona's most famous avenues for your culinary pleasures. The Tast a la Rambla festival includes workshops, demonstrations, tastings, meetings and much more!
Tast a la Rambla: workshops
The small auditorium at the Arts Mônica centre will play host to some of Barcelona's best chefs, who will be offering live demonstrations and running workshops. The perfect opportunity to hone your skills!
Free sessions will be held from Thursday to Saturday. Note that entrance is limited!
The outdoor space at Estrella Damm will also host several activities, open to the general public. Learn to make creative bocadillos, draw the perfect pint, or enjoy a live musical performance!
Click here for the full programme
Tast a la Rambla: tastings
The number and variety of things to taste at the festival is simply mindblowing! Tasting activities are divided into five categories: "signature" cuisine, bocadillos, patisserie, tapas and traditional cuisine. many of Barcelona's best-known chefs, restaurants and caterers have stands at the festiveal, including Bubó, Chök, Escribà, Bodega la Puntual, Fonda España, Loidi and more.
Tickets for the tasting experience cost 4 euros and can be exchanged for a portion of your choice.
Click here for details of tasting opportunities 
The Tast a la Rambla tapas and vermouth contest
The most iconic bars and restaurants along Las Ramblas will all be participating in the 4th annual tapas and vermouth contest. Each participating venue proposes one tapa and a glass of homemade vermouth, which will be judged by a professional jury.
The winner will be announced during the event. May the best chef win!
Useful information
The map below shows the layout of the Tast a la Rambla festival:
Tast a la Rambla: opening times

Thursday 8th and Sunday 11th June: 12pm – 10pm
Friday 9th and Saturday 10th June: 12pm – midnight
Tast a la Rambla: prices
Tasting tickets cost 4 euros, with drinks from €1 to €3.50.
There's a glass deposit to pay (€1).
Enjoy!
Like this article?
Click here!
Comments