Taverna del Clínic, the home of gourmet tapas
Had a hard day galivanting around Barcelona? Time for some top-notch tapas at the Taverna del Clínic. Go on, you deserve it!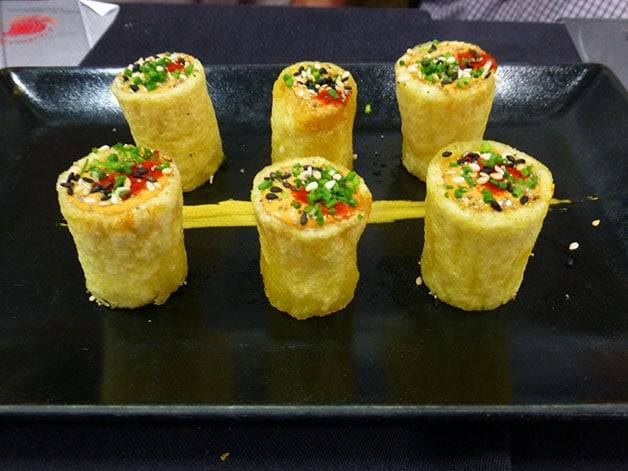 Where?
Eixample
metro: Hospital clínic (L5)
Rosselló 155
When?
1-4pm and 8-11.30pm
closed on Sundays
How much?
between 20 and 40 euros
Why?
for its exceptional tapas
The concept of the Taverna del Clínic is based around excellent, "fine" tapas made from fresh, top-quality produce.
For a tasty treat, go and try some of the little dishes served at the taverna, situated in the Eixample quarter opposite the Clínic hospital. Opened in 2005, this smart and sophisticated resto-bar is sure to surprise.
Service is fast and efficient, and the menu is extensive and varied. A word of warning, though: keep an eye on the price, as certain dishes can be very expensive.
Top tips for eating at the Taverna del Clínic
The concept at the Taverna del Clínic has changed since we first went. Although it still reflects its origins as a tapas bar in some respects, the reputation of its chefs has transformed it, little by little, into a gourmet restaurant.
Try some of the dishes at around the 10 euro price point – they're delicious, and some are spectacular reinventions of tapas classics.
Standout tapas around the 10 euro price point…
The mi-cuit liver with caramelised apples: a salty-sweet marvel, very well balanced and truly unforgettable. It's – sniff – beautiful. (Dries single tear from corner of right eye)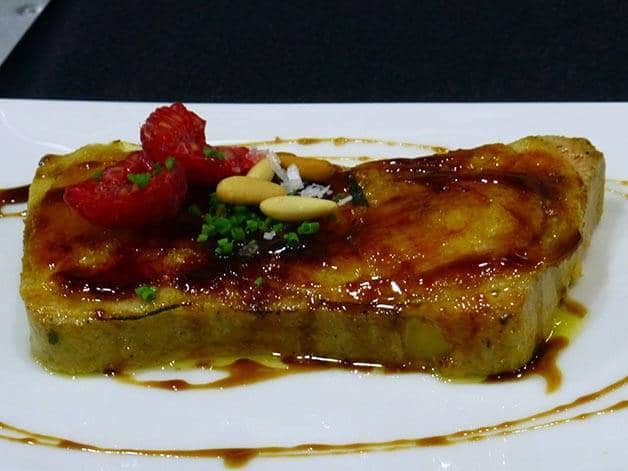 The "patatas bravas de la taverna"(see first photo): classic potato-based tapas to delight both the eye and the palate. By far and away the loveliest examples of their type we've seen in Barcelona! Come to me, my pretties…
The Bombas picantes (meat and bechamel croquettes) served with a spicy sauce which goes BOOM!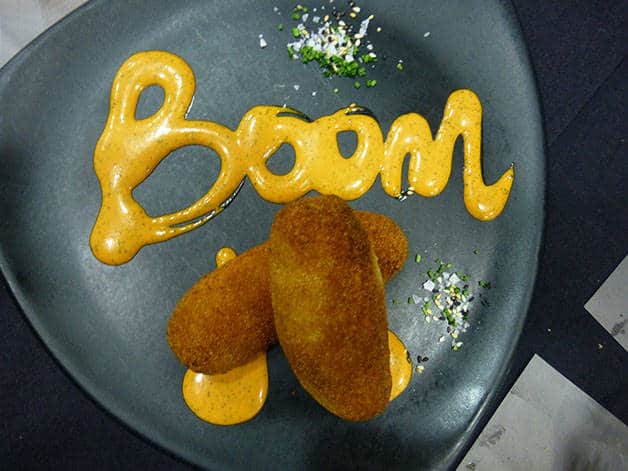 Fans of raw meat won't want to miss the mini steak tartare, oh-so-fresh and superbly seasoned.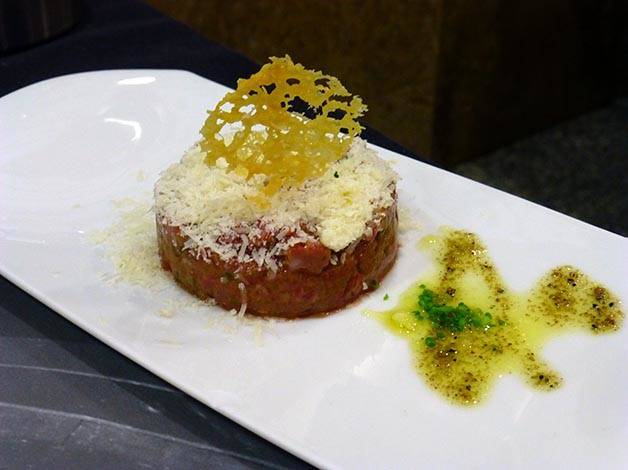 The menu is always varied and tasty, and changes regularly, so follow your tastes and your intuition – but keep an eye on the price.
We've never gone above the 20 euro price point at Taverna del Clínic, and we've never been disappointed. Follow our lead, if you don't want your credit card to melt before the evening's out.
One slightly disappointing aspect: the dessert menu is not particularly original. If you like your classics (Catalan rum baba or chocolate lava cake), then you'll be fine, but those looking for something a little more creative will be left wanting.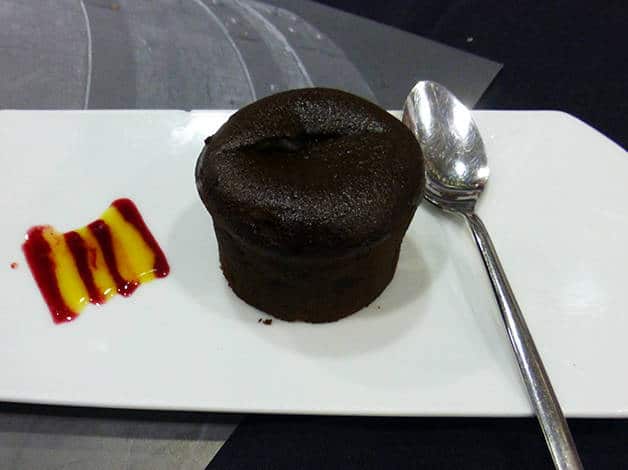 Cheese
For those for whom no meal is complete without cheese, the bar offers a surprising and, of course, tasty selection of cheeses. Just don't forget to ask the price before you indulge, or you could get a nasty surprise at the end…
Wine
The wine list, presented on an iPad, is extremely varied but also extremely dear. Your call. Otherwise, beer is available, and wine can be ordered by the glass.
Plan ahead!
Don't forget to reserve, especially if you're dining as a group. Fans of al fresco dining (and smokers) will be happy to note that the Taverna also has an outside space, which is heated in winter.
So, to sum up: if you follow our advice and watch your wallet, a truly memorable meal, featuring superb tapas in a relaxed setting, can be had for around 30 euros per head.
Like this article?
Click here!
Comments