Bus: Info, timetables, prices and advice for getting around the city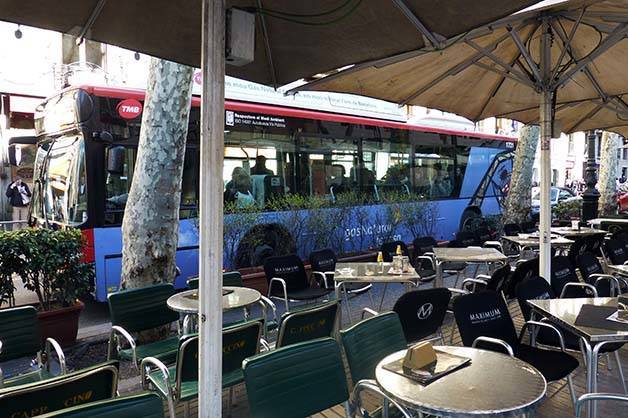 If you don't know Barcelona, it's a little more complicated getting around by bus than by metro.
The reason is simple: the bus route map is not displayed on Barcelona buses so it is difficult to know where you are and you have to be vigilant. Luckily a screen inside the bus shows the name of the next stop, as well as connections.
Before taking the bus, carefully check the route displayed at the bus stop and count the number of stops to reach your destination. That will help you avoid getting off at the wrong stop!
Barcelona bus map
There are a lot of bus lines in Barcelona, that's why it may be difficult to know which one to take!
You can check the map of the Barcelona bus lines on this link.
Good to know
Lines starting with a H run horizontally (parallel to the sea), and those starting with a V run vertically.
In Eixample most of the streets are one-way. If you are on a street going one way and you wish to take the bus in the opposite direction, there is no point continuing down this street. Head to the next parallel street: the directions alternate.
Timetables
At peak times, they run every 5 to 10 minutes on average. The rest of the day it's around every 10 to 20 minutes.
Buses generally run from 6am to 10pm and there are screens indicating the wait time for each bus at every stop.
Prices
Complete information on Barcelona bus prices can be found in our article on Getting around Barcelona by metro, bus and tram. Take a look!
Note: children aged 4 and over must pay.
2 journeys for the price of one: If you're making a return trip by bus and it lasts less than an hour and 15 minutes in total, take two different bus lines. That way you'll only pay for one journey, as the return trip is counted as a connection and is therefore included. But be careful as you still have to get your ticket stamped.
Accessibility of Barcelona's buses
Buses are equipped for travellers in wheelchairs, or buggies and suitcases.
The same space is allocated for buggies and wheelchairs, and the latter take priority.
Wheelchairs should be attached in the carriage.
It is also recommended to attach buggies.
Special Buses
Night buses
Between 10pm and 6am only the NitBus (night buses) run. They are the same price as the day buses and they all leave from Plaça Catalunya. Night bus numbers always start with the letter N.
Check the night bus routes here.
The detailed map of night bus stops can be found on the night bus website.
Aérobus, Tibibus and cruise ship shuttle