Coming to Barcelona by car or by car-share
Coming to Barcelona by car? Considering the "green", car-sharing option? Follow our directions, your destination awaits!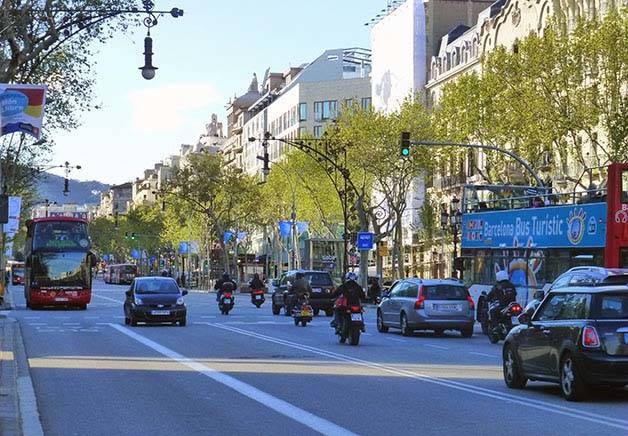 Arriving in a big city like Barcelona by car for the first time is not necessarily the most relaxing thing you'll ever do…
Useful information
The speed limit in Spain is 120 km/h (74 mph) on motorways, and 100 km/h (62 mph) on dual carriageways. Certain sections are limited to 80 or 50 km/h (49 or 31 mph) in urban areas.
Beware of speed cameras! A number of international agreements exist, meaning that even foreign tourists will not necessarily escape being fined.
All cars must carry two warning triangles and a yellow safety jacket when travelling in Spain.
Mobile phone usage whilst driving is prohibited, even with an earpiece. Hands-free kits are tolerated.
The Catalan road and motorway network is great, offering fast and practical access from the French border. However, the toll is one of the highest in Europe (around €20 from La Jonquera).
Warning! Unscrupulous motorists may throw stones at targeted vehicles to force them to stop. Some even make you that there is a problem in the back of your car and they offer to help. If you come out of your vehicle, at the first sign of inattention, the criminals take the opportunity to steal your belongings placed in the car (bags, jackets, cell phones, etc.). Careful!
Worried about the cost of parking? We have a budget-friendly solution for you, offering reduced price access to underground carparks: Parclick.com.
Car sharing: a great solution for the planet AND your budget
Car-sharing offers a budget-friendly travel option, which will also reduce your carbon footprint.
Travelling by car, Blablacar is a car-share website which you can use to offer spaces in your car to other passengers in return for a financial contribution, or to find a driver looking to travel around the same time as you. The Spanish equivalent is blablacar.es
Hint: plan your route in advance, or use SatNav. Driving in a foreign country can be very difficult if you don't know where you're going.
Travelling via…
Perpignan
Coming from Perpignan, take the AP7 motorway for around 200 km. It should take around two hours to reach Barcelona, and the journey is likely to cost around €45 for fuel and tolls (approx. €18).
[googlemap width="620″ height="480″ src="https://maps.google.es/maps?saddr=Perpignan,+France&daddr=Pla%C3%A7a+Catalunya,+Barcelona&hl=en&ie=UTF8&sll=41.391189,2.159191&sspn=0.016227,0.038581&geocode=FbyHiwIdADAsACn9iP2ATm6wEjFP3fIgZTCDHA%3BFWaGdwIdlx4hACEPeg7D9FB9oymRpAhu8aKkEjEPeg7D9FB9ow&oq=pla%C3%A7a+Catalunya&mra=ls&t=m&z=8 "]
Andorra
The route from Andorra is around 200 km and will take around three hours, taking the C16. Allow around €45 for fuel and tolls (approx. €16).
[googlemap width="620″ height="480″ src="https://www.google.com/maps?q=Andorra+la+Vella,+Andorra&hl=en&ie=UTF8&sll=41.394065,2.182571&sspn=0.008741,0.019355&oq=andorra+la+v&hnear=Andorra+la+Vella,+Parr%C3%B2quia+d'Andorra+la+Vella,+Andorra&t=m&z=14 "]
Coming into Barcelona
There are two ringroads ("Rondes" in catalan:  the Ronda de Dalt and the Ronda litoral) which will save you time coming into the city. There's also a major road which runs straight into the city centre, the  Avinguda Meridiana (look out for speed cameras and make sure you respect the 50 km/h limit).
If you're staying in the centre, follow "Meridiana, centre ciutat", signposted on white signs from the second toll booth as you approach Barcelona.
As in any major city, traffic in Barcelona is fairly dense. Try to avoid rush hour: 7-9 am and 5-7pm, particularly on Fridays and Sundays.
That said, navigation in the city centre is fairly easy, especially given the grid plan of many of the streets.
One tip for finding your way: you should be able to see Tibidabo Hill, with its church and telecoms aerial, from most places in the city.
What to do with your car in Barcelona
One final tip: read our article on budget-friendly parking in Barcelona, or the one on free parking.
Like this article?
Click here!
Comments