Budget-friendly / free tours in Barcelona: a great deal!
This way for budget-friendly guided tours of Barcelona - a fun and economical way to get straight to the heart of the city!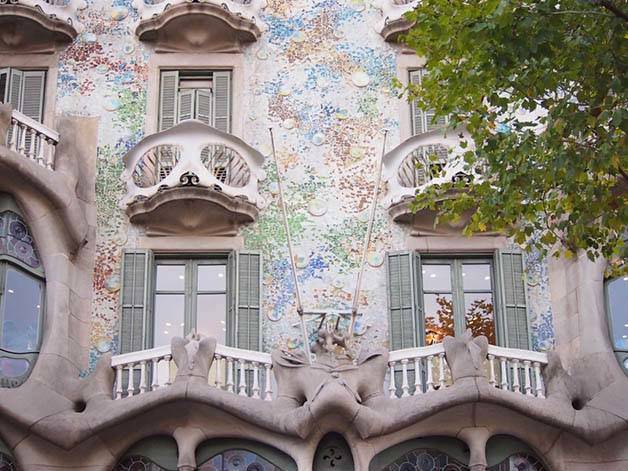 A private tour is a great way to discover a city, as you get to interact with the guide and the tour can be adapted to your needs, speed and interests, but it comes at a price.
For those on a tighter budget, we've found a great alternative: a range of 2-hour guided tours, run for bigger groups, but with an audiophone system so everyone can hear the guide clearly.
Wear comfortable shoes – you'll be walking or standing for 2 hours.
Make sure you're at the meeting point 10 minutes before the start of the tour, and be careful: the starting point is not the same for all of the visits listed. It'd be a shame to show up in the wrong place!
Free tours: historic centre
Discover the historic center of Barcelona with this free tour where a local guide will tell you the secrets of the city!
When? Every day, morning and afternoon
How much? Free!
Free tours: Gaudí and modernism
Discover the modernist heart of Barcelona with this free guided tour that will show you the main symbols of modernism in Spain.
The tour is available in Spanish.
It is a two-hour walk to discover the best examples of art nouveau architecture in the city.
When? Thursday-Sunday at 4pm
How much? Free!
Medieval Barcelona budget-friendly guided tour
When you think of Barcelona, it tends to be Gaudí and modernism which spring to mind first. However impressive the art nouveau movement was, it covers less than a century of the city's history. In the gothic quarter, you can see how Barcelona has developed over 2000 years, from its creation by the Romans to the arrival of the Visigoths, the Second Republic, the Civil War and through the democratic transition.
The tour is truly fascinating, and we learnt a lot. Highly recommended!
Why? To discover Barcelona's 2000 years of history
How much? €15 (free for under 14s)
When? Tours in English Saturday – Sunday at 10.30am all year round.
Where? Meeting point: Plaza Berenguer el Gran (metro: Jaume I)
Budget-friendly guided tours of Catalan Art Nouveau
Catalan Art Nouveau (or modernism) is imprinted on Barcelona's DNA, and is one of the city's major attractions. During this tour, you'll discover the history of the movement, from its beginnings to the height of its popularity and its slow decline.
Top tip: combine this tour with a tour of the Gothic quarter for a fuller appreciation of Barcelona's development and rich history.
Why? To discover Barcelona's most important architectual movement
How much? €14 per person, free for under-14s
When? Every day at 2.30pm
Where? Meeting point: Jaume I metro exit
Budget-friendly guided tours in the footsteps of Picasso
Picasso was born in Andalucia and spent a considerable time living in Paris, where he created some of his most famous works. Between these periods, however, he trained at the Barcelona School of Fine Art, and his career really took off in the city.
This 2-hour guided tour will introduce you to Picasso's Barcelona: you'll see his favourite café and stroll around the area where he lived, before going into the Picasso Museum. Once inside, the guide will give you a one-hour tour with explanations of te most important works in display.
We particularly enjoyed the fact that the tour highlighted some of the lesser-known aspects of Picasso's life and works. You learn a lot, and by visiting the artist's favourite haunts, you gain a clear impression of what Picasso's life was like during his formative period.
Entry to the Picasso Museum is included in the tour price, making it a great deal!
At the end of the tour, you can stay and explore the museum on your own for as long as you like.
Why? To find out more about Picasso and his origins
How much? €22.50adults, €9 children aged 4-12 (10% off by booking here)
When? January-March – from Tuesday, Thursday, Saturday at 3pm / April-October – Tuesday- Saturday at 3pm / November-December –Tuesday, Thursday, Saturday at 3.30pm
Where? Meeting point: tourist information office, Plaça Catalunya 17, basement (metro: Catalunya)
Like this article?
Click here!
Comments