Timeline Barcelona: take your time over a tasty brunch
If unlimited brunch sounds like your cup of tea (or coffee, or fruit juice), head to Timeline to see exactly how it's done!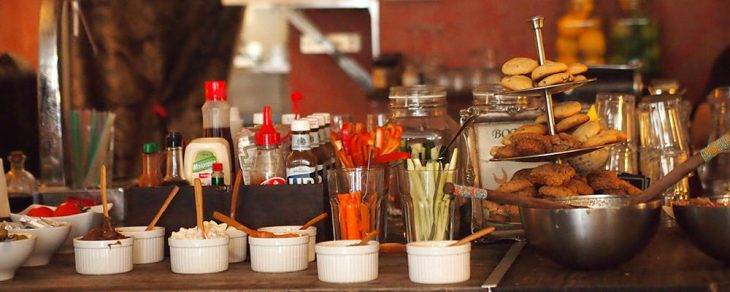 Where?
Gràcia
metro: Fontana (L3)
Providencia 3
When?
weekends and public holidays 11.30am - 5pm
Timeline is known as THE place for brunch in Barcelona – and it definitely merits its reputation! With a wide variety of excellent options on offer, there's something for everyone.
The only problem with brunch at Timeline is that you'll want to try everything, so you may end up feeling rather full by the end of it! Well, that's what happened to us, anyway… you may be strong enough to resist.
Timeline: décor
The décor at Timeline reflects the name, with clocks and old, sepia photographs hung from the walls.
Brunch at Timeline is very popular and the venue is small, so it's a good idea to book ahead.
Time for… all-you-can-eat brunch
The Timeline concept is very simple: unlimited brunch for 15 euros. For an extra 3 euros, you also get unlimited drinks (highly recommended).
The price includes the all-you-can-eat buffet, a pancake with maple syrup, with or without chocolate chips, and two tapas from a list.
Sweet treats…
If you have a sweet tooth, you'll enjoy the homemade cakes and pastries, bread and jams, Nutella and fruit, in addition to the pancake included in the menu (you'll see now why they only serve one…)
…and savoury delights
There's an even greater choice of savoury dishes, from the traditional boiled eggs to bagels, salads and vegetable dishes.
To top it all off, each table is provided with a small assortment of ham and cheeses.
And as if that wasn't enough, you'll also be given a selection of 6 small dips to eat with your bread or vegetables! These include hummus, egg mayonnaise and tzatziki (a Greek yogurt and cucumber dip). Delicious!
All the drinks of the rainbow
Drinks-wise, there's a variety of fruit juices on offer, alongside a selection of teas and coffee. Unlimited Bloody Marys and Mimosas are also included in the price… yet another test of your self-control!
The Timeline brunch offers excellent value for money with great quality products. We love it!
Like this article?
Click here!
Comments