5 best bars for watching football in Barcelona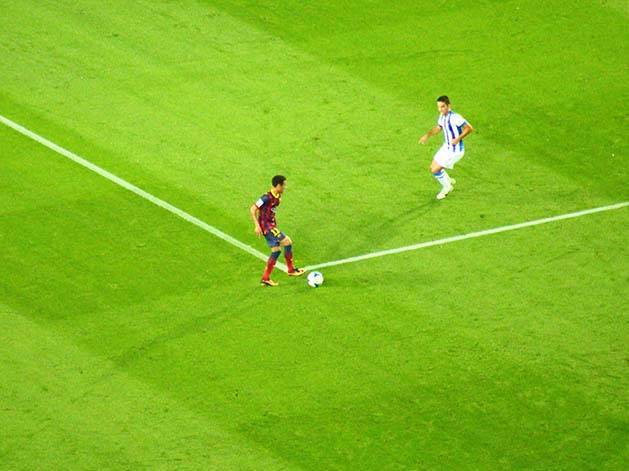 If you're a football fan, you won't want to miss a single Barça match or, for that matter, any major tournament matches taking place during your stay! Here's our selection of five very different bars where you can watch the game on a giant screen.
Top tip: arrive at least 30 minutes before kick-off in order to get a good seat.
In summer, certain beach bars also show matches, but they don't have big screens.
Our list of the best pubs for beer in Barcelona is another great place to find viewing venues with a great atmosphere!
The Catalan one: Sotavent
If you want to meet Catalan football fans on their own turf, head to Sotavent. Located in the Sarrià quarter, it's well off the tourist track and is a great place for an authentic night out.
If you're with people who don't want to watch the football, there's something for them, too: pool, darts and a selection of board games (ask at the bar).
When? Sunday-Wednesday: 7pm – 2am, Thursday: 7pm – 2.30am, Friday-Saturday: 7pm – 3am
How much? From €2.50
Why? To join the crowd in singing the Barça anthem
Where? Carrer Major de Sarrià 61, metro: Sarrià (L6)
The Belgian one: Belchica
Belchica is a Belgian bar which stocks a range of local and imported beers (at slightly higher prices). The atmosphere is friendly and festive.
When? Monday-Friday: 5pm – 3am (2am on Sundays)
How much? From €2.50
Why? For the variety of beers on offer
Where? Carrer Villarroel 60, metro Urgell (L1)

The international one: Belushi's
Belushi's is a large bar house in the Christopher's Inn Youth Hostel. Try to time your visit for happy hour (2-for-1 drinks) and/or try the homemade burgers!
There's a giant screen set up in a vast area of the bar where travellers from the worl over congregate to watch. Belushi's doesn't just show football: major sporting fixtures of all kinds from Australia, the US and Europe are also on the programme. Like Sotavent, Belushi's also has a pool table.
When? Every day, 11am – 2am
How much? From €3
Why? For the selection of beers on offer
Where? Carrer Bergara 3, metro Catalunya (L1, L3, L6, L7)
The glamourous one: the terrace at the Hotel España
Right at the top of the magnificent Hotel España is a charming and intimate terrace. Enjoy the match in comfort, perhaps with a cocktail and the feel of the wind on your face… this is the life!
When? When the weather permits. Every day, 9am – 1am.
How much? From €4
Why? For al fresco viewing
Where? Carrer de Sant Pau 9-11, metro Liceu (L3)
The Latino one: The Benedict
The Benedict is best-known for its brunches, but it's also a great restaurant/bar to choose if you want to watch the football. Moving beyond the small bar at the entrance, you'll find another area with a giant screen.
The restaurant specialises in latin-American cuisine, including tacos, nachos, burgers and guacamole. There's also an extensive cocktail list.
When? Tuesday-Sunday, 10am – 3am
How much? From €3
Why? To eat while you watch
Where? Carrer d'en Gignàs 23, metro Jaume I (L4)