Eixample and Gràcia: lively shopping areas
If you love to go out and to live near everything but you are also looking for a relatively quiet area, opt for Gràcia or Eixample.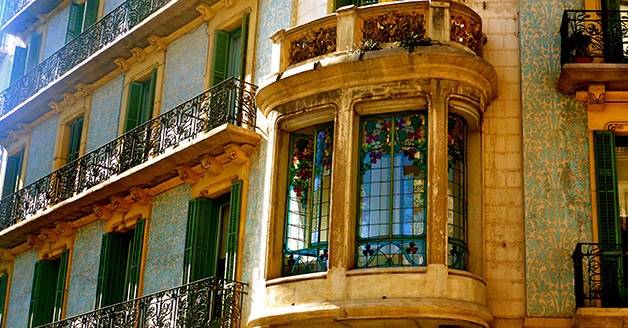 Although they are very different to each other, the Eixample and Gràcia areas share certain traits. They are both lively due to their numerous restaurants, cafés and cinemas, but they are also both less saturated with people than the city centre areas.
Eixample
Eixample (which means expansion in Catalan) is the largest district in Barcelona. It's divided into two areas by the Passeig de Gràcia: Eixample Dret (right Eixample) and Eixample Esquerra (left Eixample).
Eixample in a few words…
Central, commercial, modernist, lively, full of restaurants, cafés and cocktail bars.
Eixample Esquerra
The main streets of Eixample Esquerra are the Rambla Catalunya and Enric Granados street. They are both very pleasant with numerous terraces.
There are a lot of boutiques in  Eixample Esquerra, making the area a shopping paradise set among beautiful modernist buildings.
Sant Antoni
South of Eixample Esquerra, the little Sant Antoni area is both quiet and buzzing. Here life seems to go on without anything ever bothering the residents. However, there are a lot of trendy boutiques and cafés such as Federal café, a stylish and relaxed urban oasis.
Furthermore, its proximity to the Raval makes it a great base for night owls. It is actually the perfect alternative for those who love being close to shops, bars and restaurants but who want to live in a relatively quiet area.
Gaixample
"Gaixample" is the nickname given to the part of Eixample Esquerra that's known for its many gay bars, of which Axel hotel is the epicentre.
Eixample Dret
Some real architectural gems are set in the Eixample Dret area, as it is there that you find the Pedrera and the majestic Sagrada Familia. This area, known for its beauty, also provides easy access to the motorway leading to the Costa Brava and France.
The nearest parks: Parc de la Ciutadella (Dret) or Montjuïc (Esquerra)
A little walk in Eixample:
[googlemap width="620″ height="480″ src="https://www.google.es/maps?saddr=41.3894239,2.1601782&daddr=Carrer+del+Rossell%C3%B3+to:Pla%C3%A7a+de+Catalunya,+Barcelone+to:Passeig+de+Gr%C3%A0cia,+2,+Barcelone+to:Casa+Fuster,+Paseo+de+Gracia,+Barcelone+to:corsega+316+to:Sagrada+Fam%C3%ADlia,+Barcelone&hl=fr&ie=UTF8&ll=41.393777,2.15641&spn=0.017482,0.038581&sll=41.396063,2.164478&sspn=0.017481,0.038581&geocode=FXCNdwIdMvYgAA%3BFbOgdwIdifAgAA%3BFf6DdwId9RYhACFQh-OxC9RAnSkJadvB86KkEjFQh-OxC9RAnQ%3BFVmJdwId5xwhACm9O72C8aKkEjEnAfj1QIgxyA%3BFdmudwId7u0gACFJZnl6kOVKGymfJMbvlqKkEjFJZnl6kOVKGw%3BFXGsdwIdu_cgACmra7s9lKKkEjEaCrPYQ0HqCQ%3BFbPEdwIdCC4hACFQycMbwqrYmymT-z3Y3KKkEjFQycMbwqrYmw&oq=sagra&dirflg=w&mra=ls&t=m&z=15 "]
Gràcia
Gràcia is Barcelona's bohemian area. A little out of the way, it is less full of tourists than Gotic or Born. It's a very lively little village with a very congenial atmosphere due to the numerous cafés, restaurants and fashionable bars.
Gràcia also stands out during the Festa Major in August when its inhabitants compete to see who can create the most spectacular and colourful decoration.
Gràcia in a few words…
Lively, busy, bohemian, less touristic than the old town and a little further out.
To see: casa Vicens, plaça del sol, plaça de la llibertat, the boutiques surrounding the Travessera de Gràcia
Nearest park: Park Güell (free for residents who are registered at Gaudir+BCN)
A little walk in Gràcia
[googlemap width="620″ height="480″ src="https://maps.google.com/maps?saddr=Pla%C3%A7a+de+la+Virreina,+08024+Barcelona,+Spain&daddr=Pla%C3%A7a+del+Diamant,+08012+Barcelona,+Spain+to:BSM+-+APARCAMENT+PLA%C3%87A+DEL+SOL,+Pla%C3%A7a+del+Sol,+5,+08012+Barcelona,+Spain+to:Pla%C3%A7a+de+la+Vila+de+Gr%C3%A0cia,+08012+Barcelona,+Spain+to:Pla%C3%A7a+de+la+Llibertat,+08012+Barcelona,+Spain+to:Rambla+del+Prat,+08012+Barcelona,+Spain+to:Carrer+Gran+de+Gr%C3%A0cia,+177,+08012+Barcelona,+Spain+to:Casa+Vicens,+Carrer+de+les+Carolines,+18-24,+08012+Barcelona,+Spain+to:Pla%C3%A7a+de+Lesseps,+Barcelona,+Spain+to:41.4076453,2.1530933&ie=UTF8&ll=41.401793,2.155724&spn=0.016771,0.038581&geocode=FTjKdwIdoOkgAClB35iKvKKkEjEDdCUKUeUe4A%3BFaHHdwIdZ-UgACnbUFncvKKkEjEMlmlZu6HDZA%3BFSO9dwIdcukgACk9vZB5vaKkEjFQtqWr3LDMuA%3BFdu4dwIdEewgACnnIF8xlqKkEjEZz7uisSxNxA%3BFbW3dwId_NsgACmlVS5AmKKkEjEa836JvyBsPg%3BFXy8dwIdUdYgACntjfd7oqKkEjEQmCjmFQa8vw%3BFY_EdwIdHdYgACntK6tToqKkEjFsr-Gg2U0Yag%3BFWrEdwId9tAgACmhgDQyoqKkEjFHAkbZHwfyzg%3BFTfPdwIdws0gACllFaUQpKKkEjFqdNiN8cJVuw%3BFZ3UdwIdhdogAA&dirflg=d&t=m&z=15 "]
Like this article?
Click here!
Comments