Ice cream in Barcelona: the tastiest ways to cool off
Our selection of Barcelona's best ice cream shops offers a little taste of summer. To the beach!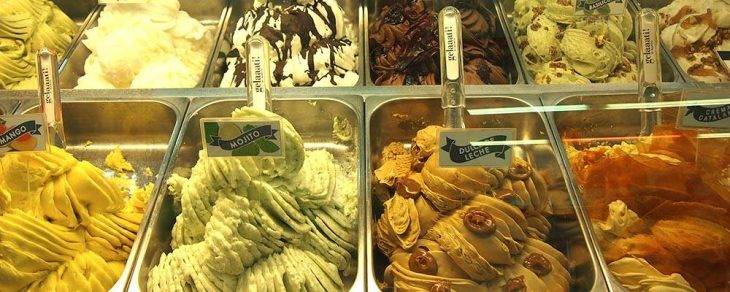 When it's hot, cooling off will be pretty high on your list of priorities. What better way to do that than with ice cream?
Ice cream in Barcelona: Gelaaati! Di Marco
The ice cream at Gelaaati! is made on the day, in the Italian style, using carefully-selected fresh products. Fans of artisan ice cream will simply melt with pleasure from the first mouthful.
In addition to being utterly delicious, the range of flavours on offer includes some rather unexpected options: banana split, mojito, chocolate and chilli (fantastic), chocolate and parmesan, chai tea… and even marijuana! The strawberry sorbet is to die for, as are the Catalan creme caramel and cheesecake ice creams.
There are several gluten-free and lactose-free options, so everybody should be able to find a cool, sweet treat to suit!
Why? For the original flavours
How much? Around €4 for a medium-sized pot (as shown above)
When? Monday – Sunday, 10am-midnight
Where? Llibretería 7 (Gòtic) métro: Jaume I (L4)
Ice cream in Barcelona: Sirvent
Sirvent is more than a simple ice cream shop: it's a true haven of Catalan authenticity. This little establishment is also famous for its horchatas. On arrival, take a ticket and enjoy a spot of people-watching whilst you wait your turn!
The ice creams on sale are richly flavoured with a range of typical Catalan tastes, including hazelnut and Catalan creme caramel. We tried the turron de xixona ice cream: delicious!
Why? For its authentic ambiance
How much? Around €2 for a cone with one scoop
When? 9am-11pm
Where? Parlament, 56 (Sant Antoni), metro Sant Antoni (L2)
Ice cream in Barcelona: DelaCrem
DelaCrem is a small, artisan ice cream shop on Carrer Enric Granados, next door to Brunch&Cake. Its delicious ice creams are created using a finely-honed process, free from gluten and animal products. If you're on a diet, note that the berry sorbets are also fat-free.
The variety of flavours on offer changes with the seasons, and there's always more choice in summer: the price to pay for 100% artisan ice cream! Rest assured, however, that original and delicious options are available year-round.
Last time we visited, we were tempted by the mojito and grapefruit-mint options, but finally we went for something with more of a Spanish feel: touron and leche merengada (a culinary marvel made from milk, eggs, sugar and cinnamon: try it!)
Why? For super-tasty, 100% vegan ice cream
How much? Around €2.50 for a small cone (like the one in the photo)
When? Monday – Thursday and Sundays, 9.30am-9.30pm / Fridays and Saturdays, 9.30am-12.30am
Où? Enric Granados, 15 (Eixample Esquerra), métro Universitat (L1, L2)
Ice cream in Barcelona: Rocambolesc
This new player on the Barcelona ice cream scene is the latest project launched by one of the three brothers responsible for the Celler de Can Roca (celebrated restaurant in Girona with 3 Michelin stars) and his wife.
The flavours here are out of the ordinary, including lemon-basil, pumpkin-passion fruit and baked apple… definitely innovative! Once you've chosen your ice cream, a range of tasty toppings are ofn offer, including grilled almonds, raspberries and hazelnuts.
Look out for the original flavours available to take away in 500g pots. We loved the fabulous parmesan ice cream!
Why? For original flavours and toppings
How much? Around €4
When? Monday to Thursday and Sundays, noon-12.30am / Fridays and Saturdays, noon-1.30am
Where? La Rambla, 51-59 (near the Liceu Theatre), métro Liceu
Ice cream in Barcelona: Eyescream and friends
This shop doesn't offer the most original flavours of any on our list, but what it does offer is a fun and original concept.
Eyescream and Friends is bound to be a hit with kids both big and small! Choose your ice cream and two toppings (sweets, chocolate, crushed cookies, fruit) to turn it into a monster. The server will then add eyes and off you go.
There's nowhere to sit in the shop: you'll need to take your monster to the bench outside, or to the beach, which is just around the corner.
Eyescream and Friends doesn't offer the best value for money – you're paying for the concept. One for the children.
Prefer to take your ice cream seriously? This probably isn't the place for you.
Why? For fun
How much? Around €4.50
When? Monday to Sunday, 2pm-7pm. In January and February, Eyescream and Friends may only be open at the weekend (with the same opening times).
Where? Passeig de Joan de Borbó, 30 (Barceloneta), métro Barceloneta (L4)
Like this article?
Click here!
Comments