Barcelona's Parc Güell: tours, tickets and useful information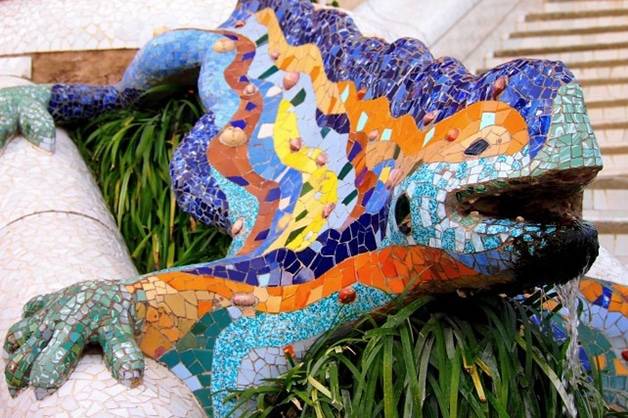 Parc Güell's curved benches and ceramic salamander are unavoidable symbols of Barcelona. Below is some information you should know before visiting this unique park.
Parc Güell: our advice for tickets
City Pass
If you're planning on visiting both Parc Güell and Sagrada Familia during your stay in Barcelona, the City Pass is worth a look! This combined ticket offers fast-track entry to both destinations, a ticket for the tour bus and an Aerobus ticket to take you from the airport to the city centre, or vice-versa.
Parc Güell guided tour
If you're looking for a thorough but reasonably-priced option, this tour gets our vote.
Times: Every Monday, Thursday, Saturday and Sunday in the afternoon.
Duration: 1h30.
Guided tour price: €29.5 adults, €26 children (10-17 years old) and free for under-10s.
Fast-track entry is included: you won't need to buy a ticket for Parc Güell as it's included in the tour price.
Buy a ticket in internet
If you just want to buy a fast-track ticket for Parc Güell, you can do it by clicking here. You have the option to book an audioguide for an extra charge of 3.75 euros.
Our advice and top tips
Explore the less built-up parts of Parc Güell: far from the curved bench are beautiful nature walks, where you can discover magnificent views of the city.
There is a café in the park, but it is expensive. Bring your own snacks and enjoy a picnic in the fresh air.
Bring a hat, sunglasses, sunscreen and water in Summer: the sun is very strong in the hills of Barcelona!
If you want to get in without queuing and discover all the secrets of Parc Güell, go for a guided tour! Click here to discover our favourite guided tours in Barcelona.
Parc Güell Opening hours
from 30th October to 26th March: 8:30am to 6:15pm (last entry at 5:30pm)
from 27th March to 1st May: from 8am to 8:30pm (last entry at 7:30pm)
from 2nd May to 28th August: from 8am to 9:30pm (last entry at 8:30pm)
from 29th August to 29th October: from 8am to 8:30pm (last entry at 7:30pm)
Parc Güell tickets
Entry fees have been in place since the 25th October 2013: a full price ticket at the Park costs 10 euros and you can buy it on this site (there are no transaction costs).

The ticket includes the "Bus Güell", a free shuttle that runs between Alfons X metro station and Park Güell.

You can also see the various reduced prices. Since spaces are limited, we would advise you to book online anyway.
Barcelona residents: register for free on the Gaudir Bcn cultural register of Barcelona for free entry to Parc Güell and other cultural offers. The process is very clearly explained on their site in Spanish, Catalan and English.
Parc Güell for free?

Good news for tight budgets! Please note that access to the park is free after ticket window closing hours:
Full season (summer): from 9:30 pm

Low season (winter): from 6:15pm

Mid season (spring and autumn): from 8:30 pm
These schedules correspond to dusk. Why not take the opportunity to go for a night out at Barcelona's most emblematic park?
Getting to Parc Güell
Taking a taxi is the fastest but also the most expensive way to get to this area. For your return to the city centre there are taxi ranks near the main entrance.
The no 24 bus leaves you not far from the park and leaves from Plaça Catalunya, via Passeig de Gràcia.
If you're going by metro, you will need to get off at Lesseps or Vallcarca and walk about 20 minutes. Lesseps station is located below Parc Güell, so you'll have to climb uphill for a while to get to the park. However, there are 3 escalators to make it easier! Vallcarca is located above the park, so you just have to walk down to the main entrance.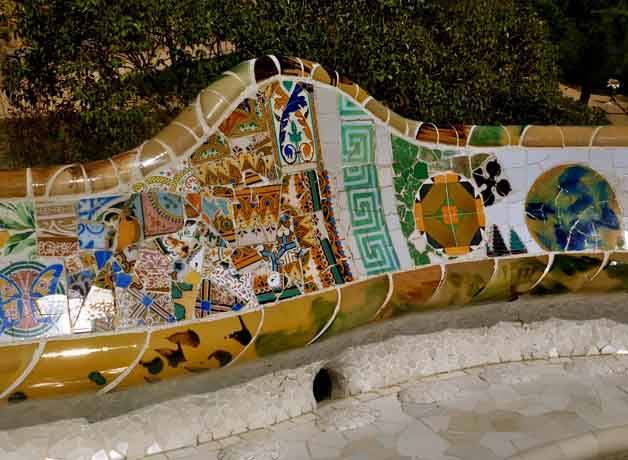 What to see at Parc Güell
The caretakers' lodges
The two lodges at the entrance were built to host the administration of the residence and the gardening service. Today they have been transformed into gift shops.
It might not be an accident if they remind you of Hansel and Gretel: when they were being built a version of this tale, translated for children by a friend of Gaudí and Güell was playing at Barcelona opera house.
The "Sala Hipóstila" and its leaning columns
The Sala Hipóstila is made up of more than 80 columns, none of which form a right angle with the ground. In fact, each of the columns leans slightly differently, which helps maintain the structure supporting the famous coloured esplanade.
These columns also collect rain water that falls on the esplanade and channel it into a reservoir.
On the ceiling a mosaic circle represents the four seasons and the lunar cycles.
Although this room was originally designed to hold the residence's market, today it is often used as a concert hall, due its impressive acoustics.
The curved coloured bench
Parc Güell's mosaic bench is absolutely legendary. It is even said to be the longest bench in the world!
Sitting on it you can enjoy a superb view over all of Barcelona, although there is an even more beautiful view from the cross at the top of the park.
The mosaics are made from recovered materials, but they are all created with the greatest care, and the predominant blue, yellow and green symbolise faith, hope and charity.
Gaudí studied each curve of the bench to perfectly suit the curves of people sitting. This ergonomic detail is also present in the stone viaducts, which Gaudí decided to make lean slightly so that walkers could lean on them, which is not possible with a vertical column.
The "casa-museu Gaudí"
Gaudí lived for 20 years in one of the houses at Parc Güell. He actually bought the model house once he realised the financial black hole that this project represented.
These days the house has been transformed into a museum where you can see the furniture designed by Gaudí, portraits, plans and even the architect's models.
The entry fee is 8.50 euros, which is a lot for such a short tour.
If you really want to visit the Casa-Museu and you also want to see the Sagrada Familia, then buy a double ticket, as this is less expensive. However, be warned that this ticket only includes entrance to the Sagrada Familia and the casa-museu. Entrance to Parc Güell is not included.