A 100% Barça-Barcelona FC football-themed stay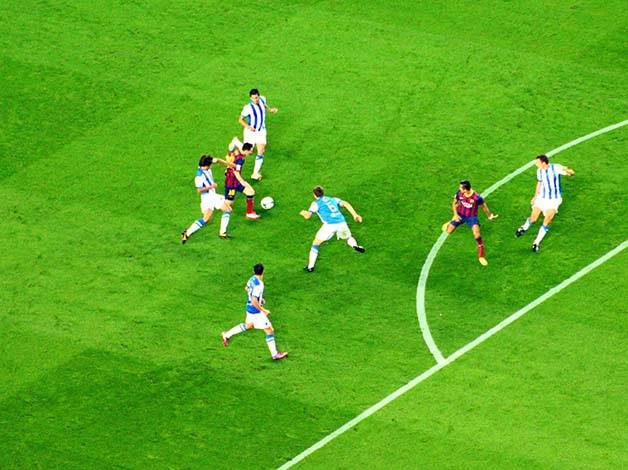 If football's your thing, then Barcelona obviously means Barça! Barcelona FC has long been one of the city's sporting icons, and many tourists visit specifically for all things football.
Find somewhere to stay near Camp Nou
If your stay in Barcelona is going to be dedicated to all things football, then Camp Nou is going to be the focus of your plans. Once you've booked your flight, your train ticket or somewhere to park your car, accommodation is next on the list!
Budget-friendly hotels
If you're looking for a budget hotel a stone's throw from the stadium, we recommend the Madanis. There are, in fact, two Madanis hotels, with a 3 star option and a 4 star option, so there's something for every budget. Prices start at €45 per room per night, truly excellent value for money given the quality of the accommodation on offer.
For more information, see our article on the Madanis hotels.
Apartments
The Madanis complex also includes cut-price apartments, on the same site near Camp Nou.
For more information, see our article Madanis: budget-friendly apartments minutes from the Barça stadium.
Brush up your Barça
If you want to reach the level of elite Barça supporters, you're going to have to work for it!
Ok, so if you're reading this, you're probably already a Barcelona FC fan. Take the time to read our article on Messi, Neymar and Piqué, though – you're sure to learn something new about the team's three star players.
It's also a good idea to practise the Barça anthem with the help of our videos. The results are bound to be impressive!
Go to a match at Camp Nou
If you can afford it, go and see a match at Camp Nou: it's an extraordinary experience, and well worth it. The atmosphere is electric, but still friendly. For instructions on how to buy tickets and on getting to Camp Nou, see our article Going to a match at the Barça-Barcelona FC stadium.
The price of tickets varies widely depending on the teams and players involved and on the tournament in question. By choosing carefully, you'll find that it is possible to experience the excitement of a match at Camp Nou without breaking the bank.
Visit the Barça-Barcelona FC museum at Camp Nou
A football-themed stay in Barcelona would not be complete without visiting the Barça-Barcelona FC museum at Camp Nou! Discover what goes on behind the scenes at the stadium and explore the history of this quasi-mythical club.

Read our article on FC Barcelona museum at Camp Nou: the temple of Barça fans for more information and useful hints (for example, we suggest you avoid visiting the day before, or even on the day of, a big match).
Refuel: restaurants near Camp Nou
Yes, you're here for the football, but it would be a shame to miss out on Catalan cuisine! We have just the place for you, a family-run gourmet restaurant offering fabulous tapas, tortillas and other local specialities. Find out more about Leku in our article on the subject. You'll love it!
Another option is the peaceful Fragments Cafè, a restaurant offering good food in a pleasant setting. Sit and watch the world go by at one of the tables outside on the Plaça de la Concòrdia, or escape from it all on the little terrace, hidden away at the back. Don't forget to book ahead!
And finally… Visca Baaaarça!